Mexican chicken salad aka Ensalada de pollo is a delicious and nutritious salad that is packed with flavor. It typically consists of shredded chicken, corn, red bell peppers and a tangy lime dressing.
The combination of spicy, savory, and fresh ingredients makes this salad a crowd-pleaser and a go-to healthy meal.
Love chicken salads? You should try our healthy cobb salad next!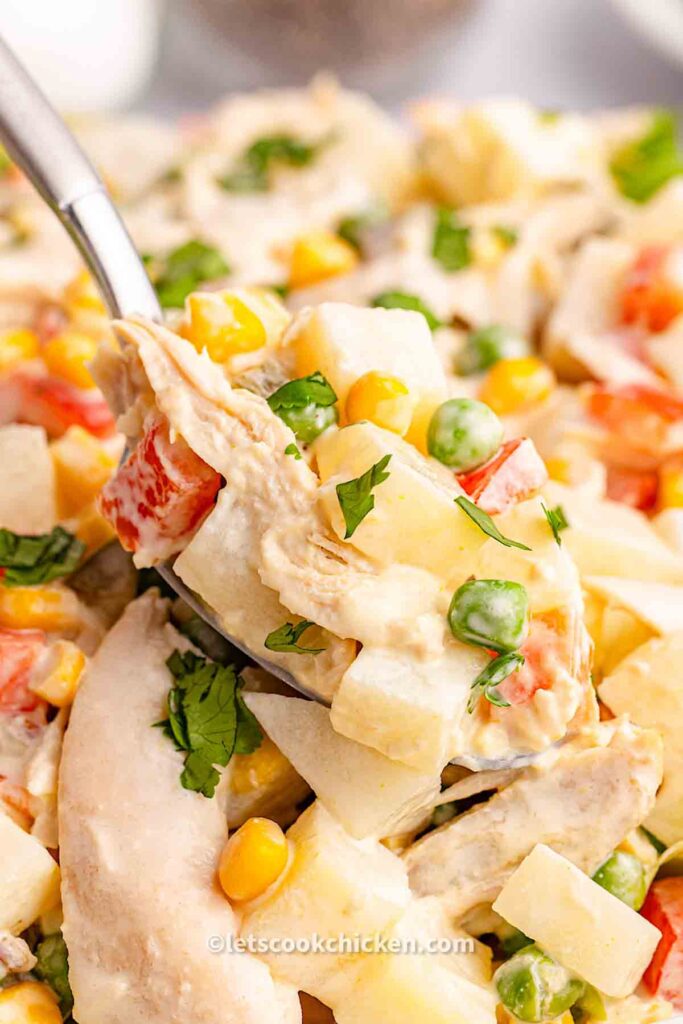 This recipe post contains helpful tips, tricks and answers to FAQs. Please read through to ensure you get the recipe right when you try it.
Mexican Chicken Salad recipe (Ensalada de pollo)
We love to incorporate hearty salads into our weekly meal plan especially protein rich salads like this Mexican chicken salad.
While it can be served on it's own, it can also serve as a perfect side dish to main dishes like Dutch oven chicken and rice or our popular ground chicken bolognese recipe and more.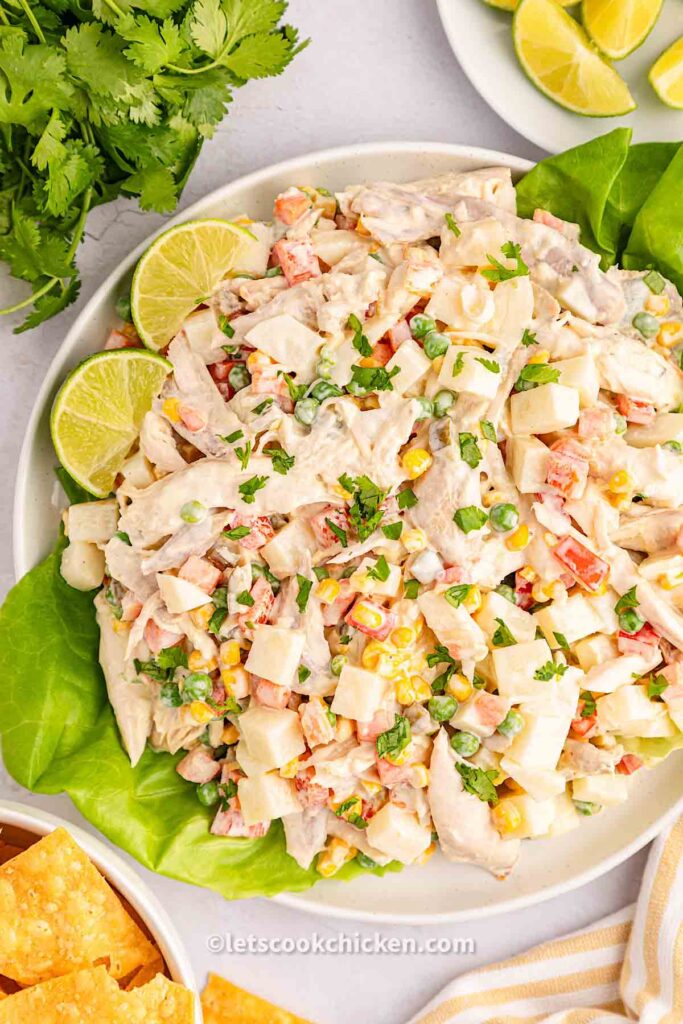 Why make this chicken salad?
Quick and easy: With ready-to-use ingredients such as frozen peas and carrots and pre-cooked chicken, our Ensalada de pollo comes together in minutes.
It's budget-friendly: Using leftover or rotisserie chicken helps keep costs down. Canned corn and frozen vegetables also help make this affordable.
It's nutrition-packed: With lean protein, fiber rich and anti-oxidant rich vegetables, this salad provides a well-rounded nutritious meal.
Versatile: Make new meal of Mexican chicken salad sandwiches with leftovers.
Alpha-Gal friendly: I love that this recipe is Alpha gal friendly meaning that it's safe for people with this allergy. Wondering what it's all about? Read Sage's article what is Alpha-Gal syndrome for more info!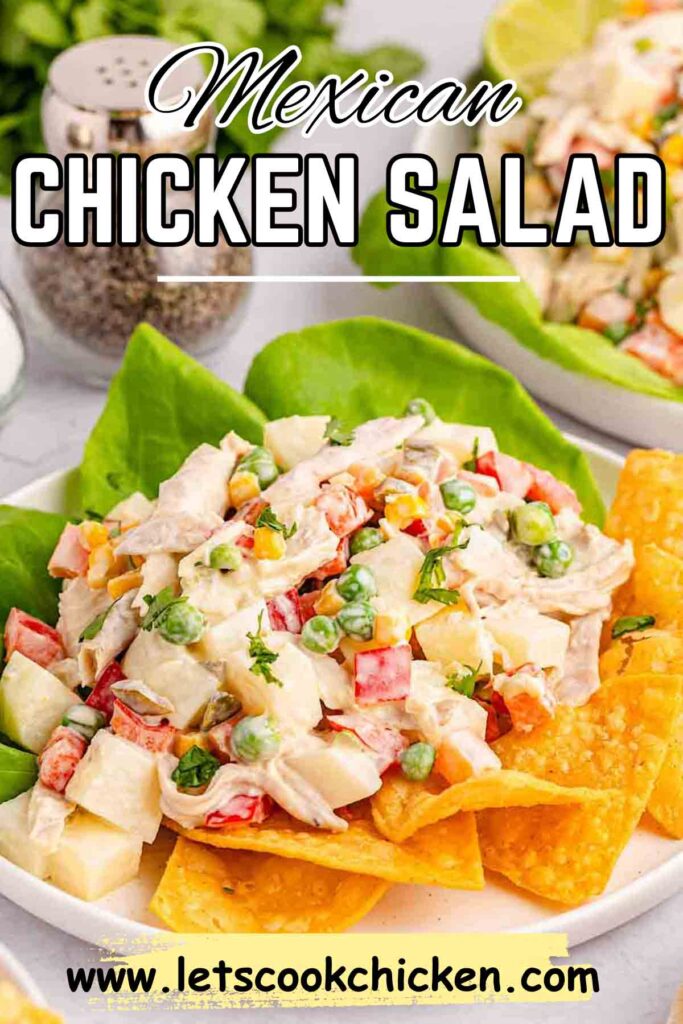 Ingredients
Chicken: You can use air fryer shredded chicken, cubed grilled chicken or shredded rotisserie chicken.
Pickled jalapeño
Red bell pepper
Frozen peas and carrots
Potatoes
Sweet corn
Garlic cloves
Salt
Mexican crema: substitute with sour cream, yogurt or crème fraiche.
Mayonnaise: substitute with Greek yogurt
Lime juice
Yellow mustard
Cilantro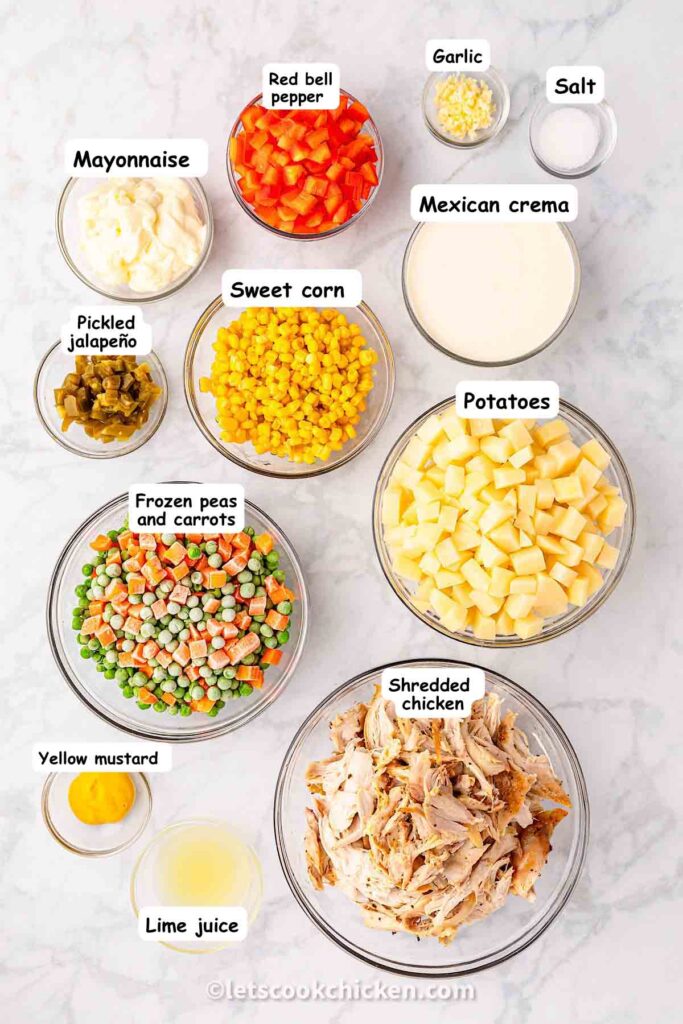 Optional Add ins
Canned Black beans
Diced Avocados
Romaine lettuce
Tools used for this recipe
The list below may contain affiliate links. As an Amazon associate and affiliate to other merchants, this website may earn from qualifying purchases. Please read full disclosure here.
Measuring spoons
Salad spinner if using Romaine lettuce, this will help dry the lettuce to reduce moisture in the salad
Mixing bowls
How to make Mexican Chicken Salad
See printable recipe card at the end of this post for ingredient quantities and full instructions!
Cook the vegetables (did you know potatoes are vegetables?)
Boil the potatoes till fork tender. While potatoes are cooking, warm up the peas and carrots on the stovetop or microwave.
When the potatoes are cooked, drain and let it cool down slightly.
Add the shredded chicken, boiled potato cubes, carrots and peas to a salad bowl.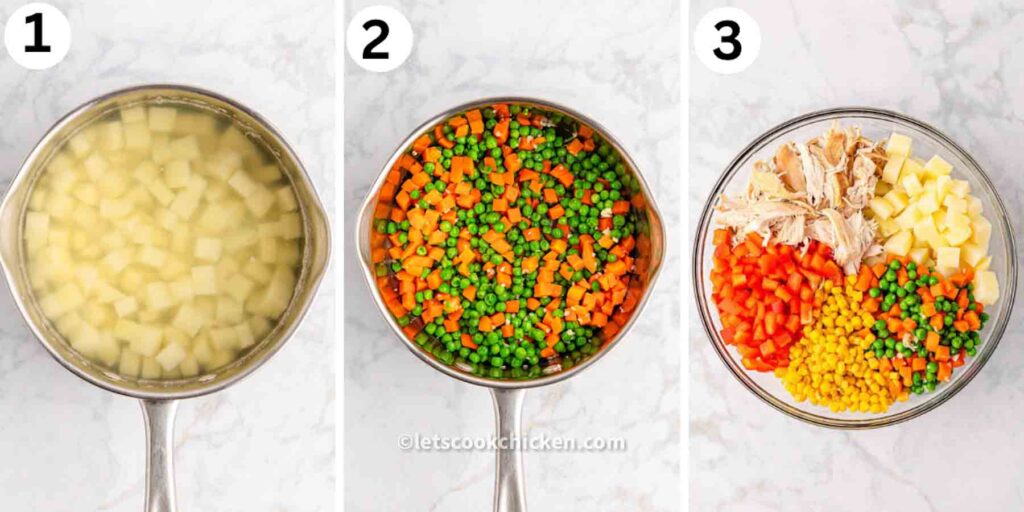 Build the salad
Mix Mayo, Mexican crema, pickled jalapeño, plus some pickled juice, lime juice, garlic, mustard and salt.
Drizzle salad dressing over it. Mix till all the ingredients are well coated.
Serve as is or refrigerate for about 30 mins or up to an hour if you have the time before serving.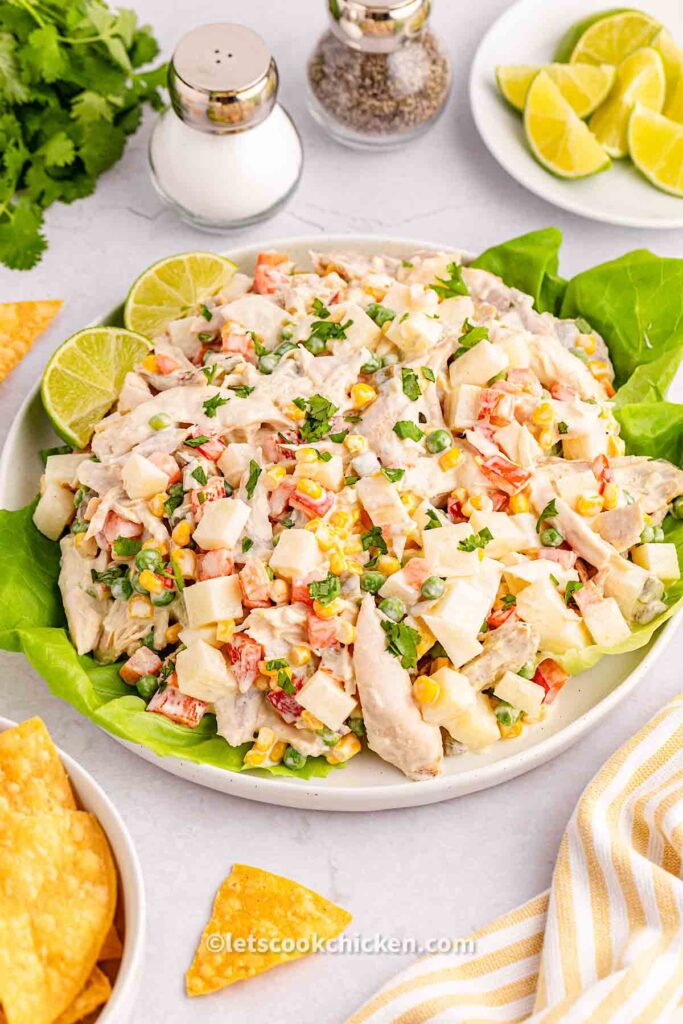 What to serve with this recipe
While this Mexican chicken salad can be served on its own, the following sides can complement this easy salad.
Chips and guacamole
Warm tortillas or taco shells
Spanish rice
Refried or black beans
Fresh fruit like pineapple, mango, or watermelon
Make a Mexican chicken salad sandwich it. Simply place a slice of bread on a plate, scoop some salad onto it, cover with another slice of bread and enjoy.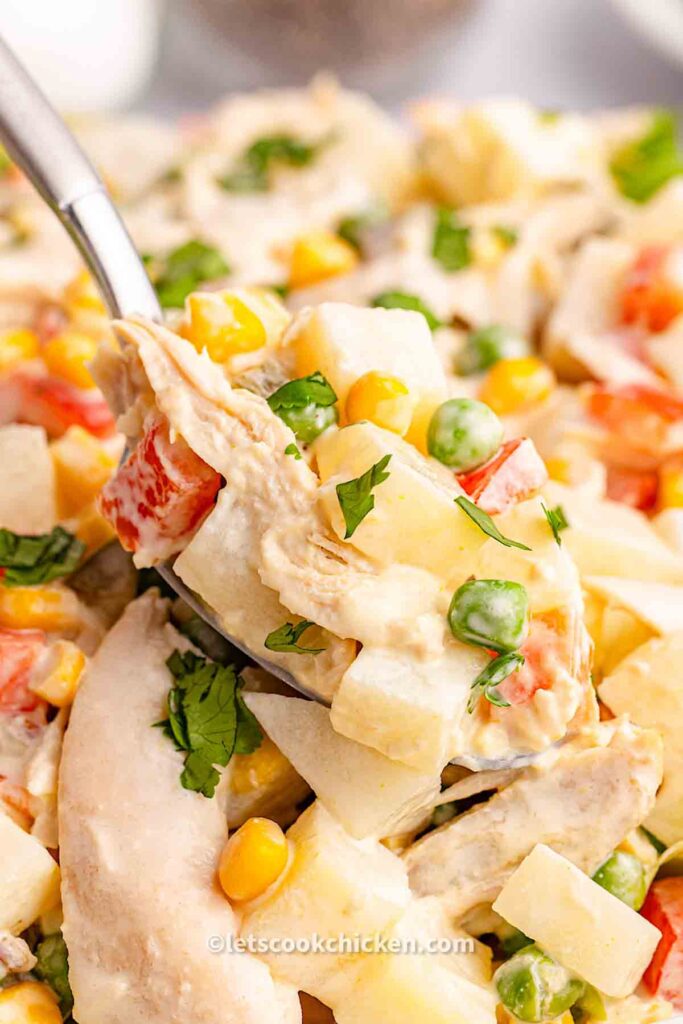 How to store
Let the salad cool down completely before storing (assuming the chicken, potatoes, carrots and peas were still warm before using)
It's not recommended to store warm salad in the refrigerator. Store in an airtight container in the refrigerator for 3 to 5 days. Glass containers work best.
If storing for more than 2 days, keep the dressing separate and mix together just before eating.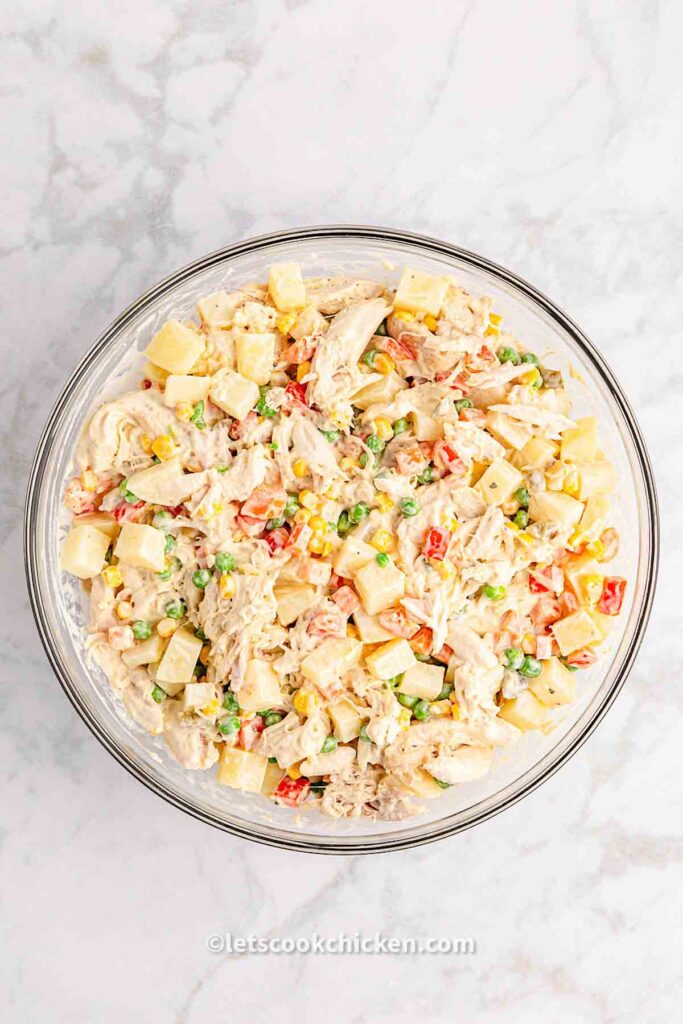 Pro Tips
Grill or saute chicken instead of boiling for more flavor. Remember to let it cool before chopping.
You can cut the chicken breast into cubes instead of shredding.
Customize with your favorite Mexican toppings like avocado, black beans, cotija cheese, etc.
You can substitute the frozen peas and carrots with fresh. Just make sure to cook it to your desired level of crunch before using.
FAQs
What protein can I use instead of chicken?
Shredded rotisserie chicken works great, but you can also use shredded pork, turkey, or plant-based proteins like chickpeas or jackfruit.
Can I serve Mexican chicken salad cold or room temp?
Yes, it can be served chilled or at room temperature. The flavors develop well when chilled for 30 minutes up to overnight in the refrigerator. Just give it a good stir before serving.
How long does homemade Mexican chicken salad last in the fridge?
Homemade chicken salad with fresh vegetables will typically last 3-5 days in the refrigerator depending on ingredients used. Store tightly covered.
What dressing is best for Mexican chicken salad?
Tangy lime vinaigrette, Mayo based recipe just like ours or any citrus dressing would work. You want an dressing to balance the rich ingredients.
Can I use fresh peas and carrots?
Yes you can use fresh peas and carrots. Simply boil them till they are soft but not mushy.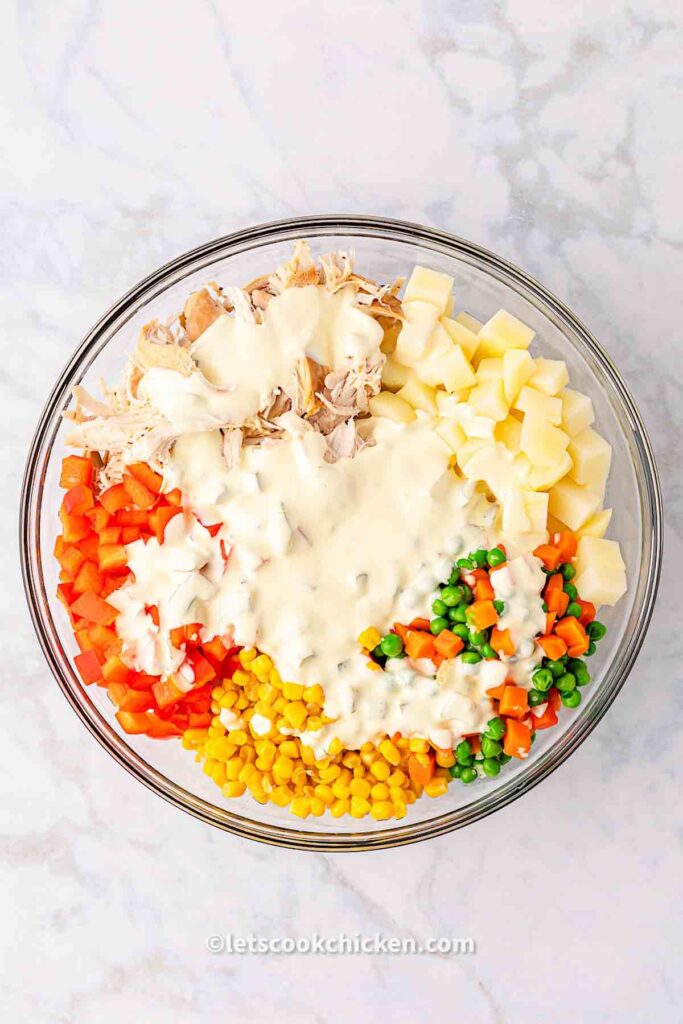 More Recipes like this
Chicken bacon pasta salad
Fajita taco salad
Check out all our chicken recipes.
Did you find this post helpful? Please leave a comment below and use the star rating to let us know how much you enjoyed it.
Have you shared this recipe yet? This is the time to use the share buttons and share this chicken recipe with your family and friends.
Thank you for stopping by. Hope to see you again soon! If you'd love more chicken recipes, sign up for our free newsletter and come hang out with us on Instagram, Facebook, Pinterest, Tiktok and YouTube for updates.
For now…. Let's cook chicken!
Love it? Pin it!
Mexican chicken salad recipe
Mexican chicken salad aka Ensalada de pollo is a delicious and nutritious salad that is packed with flavor. It typically consists of shredded chicken, corn, red bell peppers and a tangy lime dressing. 
Ingredients
3

Medium

russet potatoes

(peeled and cubed)

4

cups

Shredded chicken

(Either from once cooked rotisserie chicken with skin removed or two large chicken breasts cooked grilled or air fried)

12

ounce

peas and carrots

(frozen)

1

cup

sweet corn

(drained)

1

Medium

red bell pepper

(diced)

½

cup

mayonnaise

1

cup

Mexican crema

(substitute with use sour cream or plain yogurt)

2

teaspoons

yellow mustard

1

garlic clove

(minced)

2

tablespoons

lime juice

(Juice of 1 lime)

¼

cup

pickled jalapenos

(diced)

1

tablespoon

Pickle juice

(from the pickled jalapeño)

1

teaspoon

salt

Cilantro for garnish
Instructions
Cook the vegetables
In a medium saucepan, bring water to boil over high heat. Once boiling, add the peeled and cubed potatoes and cook until fork tender, about 8 minutes. Drain out the water and set aside to cool.

While potatoes are cooking, add a warm up the frozen peas and carrots in a sauce separate saucepan over low heat.

Simmer and stir often until thawed and warmed through. Alternatively warm up in a microwave safe bowl. Set aside to cool.
Make the dressing
In a small mixing bowl, combine the Mexican crema, mayonnaise, minced garlic, yellow mustard, lime juice, pickled jalapenos, pickled juice from the jalapeño and salt. Whisk together. Taste and adjust taste for salt as needed.
Assembling the salad
In a large mixing bowl, add the shredded rotisserie chicken, diced bell pepper, sweet corn and the cooled potatoes, peas and carrots.

Add the dressing and toss to combine.

Refrigerate until ready to serve. If you have time, chill it for an hour before serving to allow the flavors to blend together. Enjoy!
Notes
You can use a rotisserie chicken, remove the skin, and shred it. Or you can boil or bake chicken breast until cooked through and then shred it.
You can also use a 16 oz bag of frozen mixed veggies. A bag of frozen mixed veggies typically contains peas, carrots, corn, and green beans if using this, you can use half of the sweet corn stated in this recipe or leave it out entirely.
Pickled jalapenos and the pickle juice from the jalapeño add some tart and a bit of kick to this recipe. If you don't want it spicy, leave it out completely. If you love heat, start with 1 tablespoon brine and then add more to taste.
Potatoes such as Yukon Gold, Red potatoes , Russet potatoes etc, will work perfectly for this recipe. Simply ensure to cut into cubes and cook till it's fork tender. Be careful not to overcook it. You can keep the skin if the potatoes on if you prefer. Make sure to wash and scrub thoroughly before boiling. You should also consider buying organic potatoes.
This salad is most enjoyable when served at a cool temperature. Refrigerate it for 1-2 hours prior to serving to enhance the flavor. This allows the dressing to thicken and the chicken and vegetables to absorb the flavors.
Nutrition
Calories:
257
kcal
Carbohydrates:
21
g
Protein:
14
g
Fat:
14
g
Saturated Fat:
2
g
Polyunsaturated Fat:
5
g
Monounsaturated Fat:
2
g
Trans Fat:
0.03
g
Cholesterol:
46
mg
Sodium:
576
mg
Potassium:
579
mg
Fiber:
3
g
Sugar:
3
g
Vitamin A:
3818
IU
Vitamin C:
26
mg
Calcium:
62
mg
Iron:
1
mg