This healthy Cobb salad with blue cheese, boiled eggs and bacon tossed with the best dressing will definitely blow your mind. This classic American salad is popular restaurant favorite.
Chicken Cobb salad is super easy to make, packed full of flavor and comes together pretty quickly. We love this easy recipe so much and we think you would too so we made a collection of what to serve with Cobb salad for you to enjoy.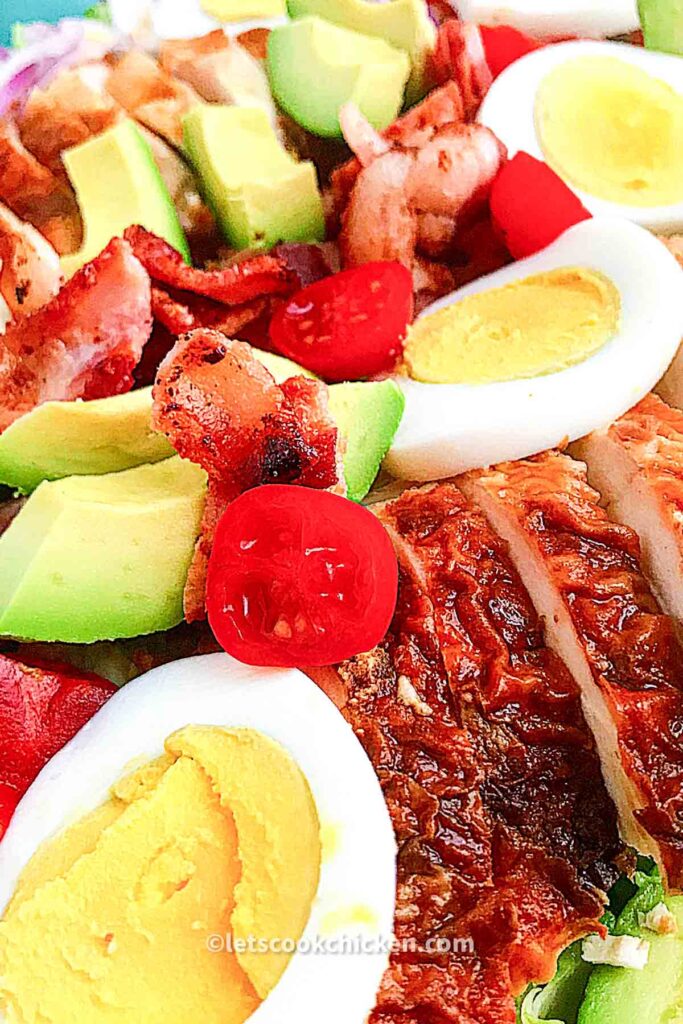 This recipe post contains helpful tips, tricks and answers to FAQs. Please read through to ensure you get the recipe right when you try it.
What is Cobb salad?
Cobb salad is a popular American salad that was created by Robert Howard Cobb, a restaurant owner, and first served at his Hollywood restaurant, The Brown Derby, in the 1930s.
It typically includes chopped lettuce, tomatoes, bacon, hard-boiled eggs, avocado, grilled chicken, and blue cheese.
This tasty chicken salad is often served with a vinaigrette dressing or ranch and can be customized with additional ingredients according to personal preference.
This recipe was featured in our what to serve with fried chicken article.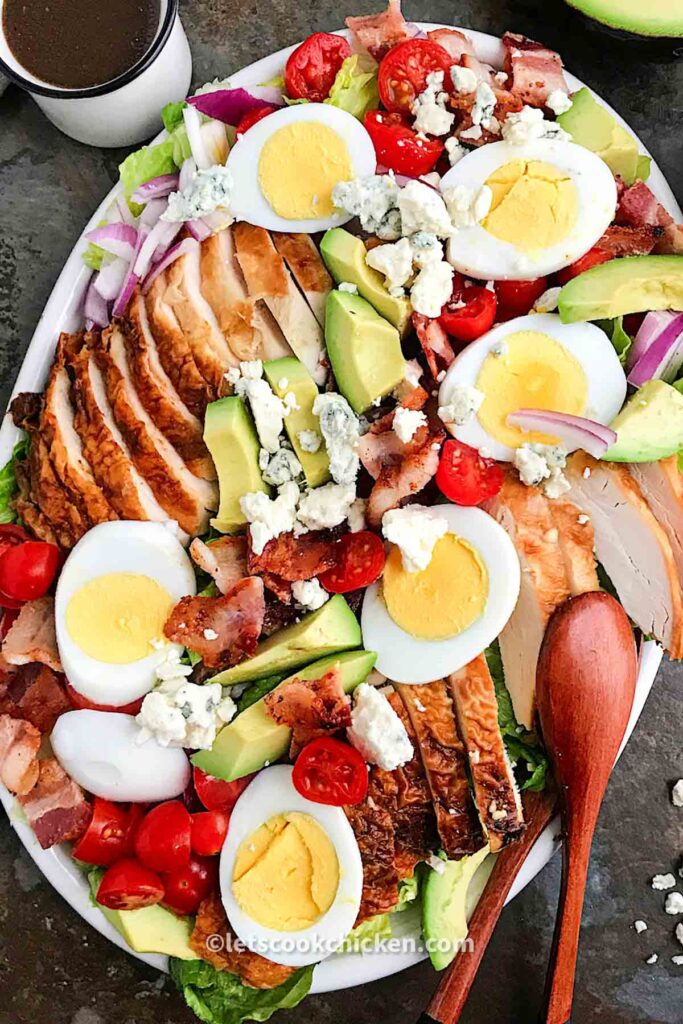 Why you'll love this recipe
Easy to Prepare: It's relatively simple to assemble a Cobb salad, making it a popular choice for home cooks and restaurant menus alike.
Versatility: The Cobb salad can be customized to suit individual preferences. You can add or omit ingredients based on personal taste or dietary restrictions.
Wholesome and Filling: The Cobb salad is a substantial dish that leaves people feeling full and satisfied, making it an excellent choice for lunch or dinner.
Nutritional Balance: The salad often includes a mix of vegetables, proteins, and healthy fats, making it a nutritious and filling meal option.
Ingredients for this healthy Cobb salad recipe
These are divided into two categories, the dressing and the main ingredients of the salad.
Dressing ingredients
Balsamic vinegar
Olive oil
Salt
Black pepper
Dijon mustard
Salad ingredients
Boiled eggs
Chicken
Bacon
Romaine lettuce
Cherry tomatoes bacon
Red (Purple onions)
Blue cheese
Avocado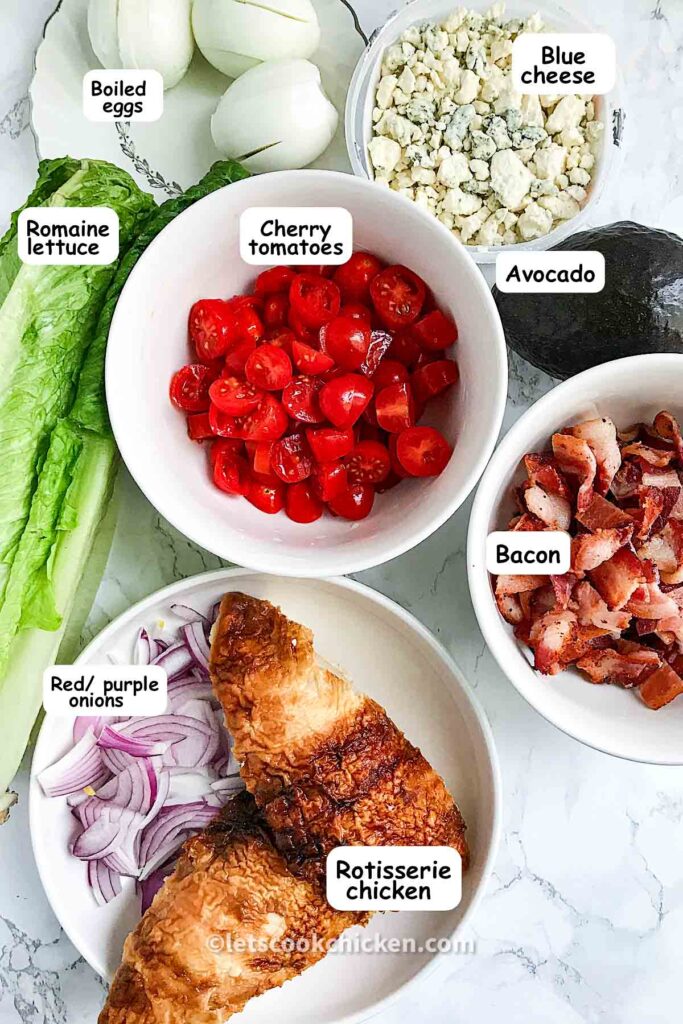 Tools used for this recipe
The list below may contain affiliate links. As an Amazon associate and affiliate to other merchants, this website may earn from qualifying purchases. Please read full disclosure here.
Mixing bowl
Salad spinner
Salad tongs
Knife
Cutting board
How to make a healthy Cobb salad
Make the dressing: Mix the dressing ingredients in a mason jar, cover shake to combine, then put in the refrigerator to chill while you proceed with the next steps.
Prepare the ingredients: Boil the eggs, cook and chop the bacon, wash and chop the lettuce. Cut and dice the avocado and onions.
Assemble the salad: place the chopped lettuce on a platter, then neatly arrange the chopped chicken, crumbled bacon, hard-boiled eggs, diced avocado and cherry tomatoes.
Garnish with the onion slices. Get the dressing from the refrigerator, shake and drizzle over the salad before serving.
What is the best dressing for Cobb salad?
Several dressings complement the flavors of a Cobb salad. Some popular options include:
Balsamic Vinaigrette: Its tangy and slightly sweet flavor pairs well with the variety of ingredients in a Cobb salad.
Ranch Dressing: Creamy and savory ranch dressing is a classic choice for Cobb salads, adding richness to the dish.
Blue Cheese Dressing: For those who enjoy a bolder flavor, blue cheese dressing is a traditional and delicious option.
Honey Mustard Dressing: The sweet and tangy taste of honey mustard can provide a nice contrast to the savory components of the salad.
Lemon Herb Dressing: A light and refreshing lemon herb dressing can enhance the fresh flavors of the salad.
Caesar Dressing: This dressing offers a unique twist to the Cobb salad, infusing it with a hint of garlic and parmesan.
What to serve with this salad
Cobb salad is a hearty and filling dish on its own, but if you're looking to complement it with some additional items, here are some ideas:
Bread or Rolls: Serve some freshly baked bread or rolls on the side to add some extra carbs and make it a more substantial meal.
Soup: Pair the Cobb salad with a light soup like tomato basil soup or vegetable soup for a comforting and well-rounded meal.
Fruit: Fresh fruit such as sliced watermelon, grapes, or berries can add a refreshing touch to balance the flavors of the salad.
Quiche: A savory quiche, like spinach and cheese or a classic quiche Lorraine, can be a delightful accompaniment to the salad.
Make ahead instructions
To make Cobb salad ahead of time, follow these steps:
Wash and chop lettuce, (don't forget to use a salad spinner to get the lettuce dry) tomatoes and onions. Chop the cooked chicken and bacon, slice the hard-boiled eggs, leave the avocado for when you want serve.
Keep the ingredients separate to maintain freshness and prevent wilting. Store each ingredient in airtight containers in the refrigerator for up to 3 days
If you have a dressing or vinaigrette, store it separately in a small container with a tight lid.
When you're ready to serve, cut the avocado, then combine all the prepped ingredients in a large bowl and toss with the dressing.
Storing leftovers
For the best Keto Cobb salad experience, it is ideal to serve it fresh. However, if unable to follow the make-ahead instructions, a mixed salad without dressing can remain fresh for a day in the refrigerator.
It is not advisable to keep it for longer than that to ensure its quality.
Tips
Use a salad spinner to dry the lettuce after washing to remove any excess liquid especially if you are making this salad ahead.
You can use Costco bacon crumbles homemade bacon bits or this air fryer bacon bits instead of cooking the bacon from scratch before chopping.
Use fresh ingredients for best results.
FAQs
Is the Cobb salad suitable for a low-carb diet?
Yes, the Cobb salad can be suitable for a low-carb diet by choosing low-carb ingredients and dressings, and watching portion sizes.

Focus on low-carb veggies and limit high-carb additions to enjoy a delicious and satisfying meal. Consulting a healthcare professional or registered dietitian for personalized advice is always recommended.
Can I customize the Cobb salad to suit my taste preferences?
You can definitely customize a Cobb salad to suit your taste by swapping ingredients, adding your favorites, choosing different dressings, trying various greens and proteins, and adding toppings for extra crunch and flavor.

Have fun experimenting with different combinations to make a personalized and enjoyable meal!
Is the Cobb salad a healthy meal option?
Yes, the Cobb salad can be a healthy meal option, but it depends on the specific ingredients and dressings used.
Can I use grilled or roasted chicken in a Cobb salad?
Yes, you can use grilled or roasted chicken in a Cobb salad. It adds a savory flavor and is a popular choice for this salad.

Simply chop the chicken and add it to the other ingredients. Enjoy your delicious Cobb salad!
More chicken salad recipes.
Mexican chicken
5 ingredient chicken salad
Shredded chicken salad
Chicken mango salad
Check out all our chicken recipes.
Did you find this post helpful? Please leave a comment below and use the star rating to let us know how much you enjoyed it.
Have you shared this recipe yet? This is the time to use the share buttons and share this chicken recipe with your family and friends.
Thank you for stopping by. Hope to see you again soon! If you'd love more chicken recipes, sign up for our free newsletter and come hang out with us on Instagram, Facebook, Pinterest, Tiktok and YouTube for updates.
For now…. Let's cook chicken!
Love it? Pin it!
Easy healthy Cobb salad recipe
This healthy Cobb salad with blue cheese, boiled eggs and bacon tossed with the best dressing will definitely blow your mind. This classic American salad is popular restaurant favorite.
Ingredients
Dressing:
2

tablespoon

balsamic vinegar

¼

cup

olive oil

(or avocado oil)

⅛

teaspoon

salt

½

teaspoon

black pepper

1

tablespoon

Dijon mustard
Salad
1

Romaine lettuce

6

slices

bacon

(cooked and chopped or ¾ cup crumbled bacon)

2

medium

chicken breasts

(boiled, grilled or air fried. You can substitute with rotisserie chicken breast)

3

Large

eggs

(hard boiled)

½

medium

red onions

½

cup

cherry tomatoes

( halved)

1

Large

avocado

(cubed)
Optional add ins
sliced cucumber

bell peppers

or any other preferred veggies

pecans or walnuts for extra crunch
Instructions
Make the dressing
Mix all the dressing ingredients together and set aside in the refrigerator.
Prepare the ingredients
Cook the chicken, bacon, and hard-boiled eggs. Once cooled, chop or crumble them into bite-sized pieces. Dice the avocado and halve the cherry tomatoes.
Assemble the salad
On a large serving platter or individual salad plates, start with a bed of chopped lettuce.

Neatly arrange the chopped chicken, crumbled bacon, hard-boiled eggs, diced avocado, cherry tomatoes, and any additional vegetables you'd like to add on top of the lettuce.

Sprinkle the crumbled blue cheese.

Garnish with the chopped onions and any optional chopped nuts for added texture and flavor.

Drizzle the dressing over the Cobb salad just before serving. You can either serve it already dressed or offer the dressing on the side for individual preferences.

If desired, toss the salad gently to distribute the dressing and flavors evenly. Serve immediately.
Nutrition
Calories:
377
kcal
Carbohydrates:
9
g
Protein:
24
g
Fat:
27
g
Saturated Fat:
6
g
Polyunsaturated Fat:
4
g
Monounsaturated Fat:
15
g
Trans Fat:
0.05
g
Cholesterol:
156
mg
Sodium:
358
mg
Potassium:
829
mg
Fiber:
5
g
Sugar:
3
g
Vitamin A:
9366
IU
Vitamin C:
12
mg
Calcium:
65
mg
Iron:
2
mg