If you love ground chicken and pasta recipes, then this easy chicken bolognese recipe is right up your alley. Elevate dinner with this healthy alternative to beef Bolognese. This recipe packs a punch when it comes to flavor and requires a few ingredients and minimal prep!
Permit me to say that this is one ground chicken recipe you need in your collection so come along and I'll show you how we make chicken bolognese over here at let's cook chicken.
This recipe was featured in best side dishes for fried chicken collection.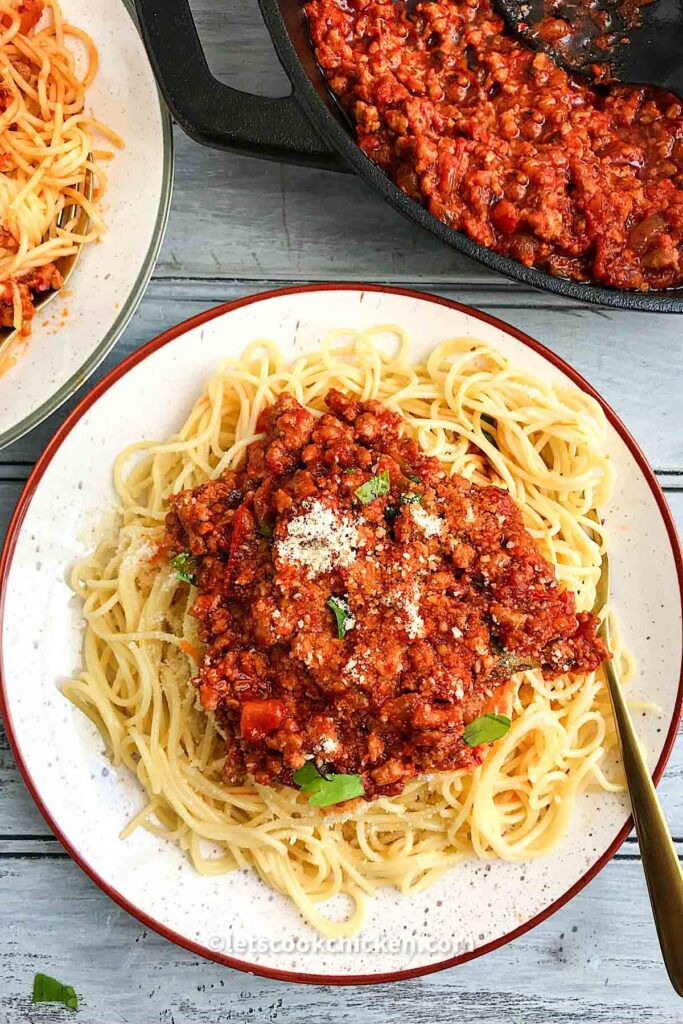 This recipe post contains helpful tips, tricks and answers to FAQs. Please read through to ensure you get the recipe right when you try it.
Ground chicken bolognese recipe
Ground chicken has become more popular as an alternative to ground beef or pork in the pursuit of lean and white meat! It's no wonder chicken bolognese is becoming a favorite in most fit fam circles.
Spaghetti bolognese is perfect for a busy week night or a lazy weekend dinner. C'mon this comes together quickly. With less than 30 mins active cooking time there's no need to sleep in the kitchen making elaborate meals if you don't want or need to.
When you try this easy ground beef and pasta recipe it's sure to be on a weekly rotation when you don't want to make our Aldi chicken nuggets or air fryer frozen chicken patties.
Why you'll love this recipe
Chicken spaghetti bolognese is easy to make and because chicken has a mild flavor, it blends well with the richness of flavors you will find in bolognese sauce.
Healthier: Chicken is often considered a leaner meat compared to ground beef or pork typically used in traditional Bolognese. It offers a lighter alternative for those who prefer a healthier option without compromising on taste.
Versatility: Chicken is a versatile protein that can absorb and blend well with various ingredients and flavors.
Comfort food: Chicken is a popular and widely consumed meat, making this chicken Bolognese sauce a comforting and familiar choice for many. It offers a twist on the classic Bolognese recipe while still providing a satisfying and hearty meal.
This recipe is gluten free and dairy free and fits into most diets including low carb.
Ingredients
Ground chicken
Oil
Carrots
Celery
Onions
Italian seasoning
Chicken bouillon
Red pepper flakes
Salt
Black pepper
Bay leaves
Recommended tools
The list below may contain affiliate links. As an Amazon associate and affiliate to other merchants, this website may earn from qualifying purchases. Please read full disclosure here
How to make chicken bolognese sauce in easy steps
See printable recipe card at the end of this post for ingredient quantities and full instructions!
Sauté onions, garlic, till onions is softened, add the ground beef breaking it up with a spoon or ground meat chopper while it cooks.
Add bouillon powder to chicken and continue to cook to brown chicken. When chicken is browned, add tomato paste, carrots and celery (if using) Cook for a minute stirring frequently then add water and other ingredients except the salt.
Continue cooking on medium high for 15 to 20 mins. The sauce will thicken as it cooks. If you find that it's getting too thick for your liking, add more water.
Taste for salt and pepper and adjust as needed.
Serve over pasta or toss the spaghetti in the sauce.
What to serve with chicken bolognese
Bolognese sauce pairs well with a variety of side dishes. If you are looking for a dessert you should try these easy pecan tarts! Looking for other options? Here are some popular sides.
Pasta: Bolognese sauce is traditionally served with pasta, such as spaghetti, fettuccine, or tagliatelle. The pasta helps absorb the sauce and provides a hearty base for the dish.
Bread: Serve a crusty bread like Italian bread or garlic bread on the side. It's perfect for dipping into the sauce or sopping up any remaining sauce on the plate.
Vegetables: Roasted or steamed vegetables make a nutritious and colorful addition to the chicken bolognese pasta. You can choose vegetables like broccoli, zucchini, carrots, or green beans.
Parmesan Cheese: Grated Parmesan cheese is a classic topping for Bolognese sauce. Sprinkle some on top of the pasta and sauce to add a salty and nutty flavor.
Wine: Pairing Bolognese with a glass of red wine can enhance the dining experience. A medium-bodied red wine, such as Chianti or Sangiovese, complements the rich flavors of the sauce.
Recipe Variations
Shredded chicken bolognese: make the bolognese with shredded cooked chicken instead. In this case, you cook the sauce then add the shredded chicken.
Use other ground meats such ground Turkey for Turkey bolognese, ground beef for traditional bolognese.
You could also throw in some grape tomatoes into this sauce for more texture. I love the feel of the cooked tomatoes and ground chicken. So good!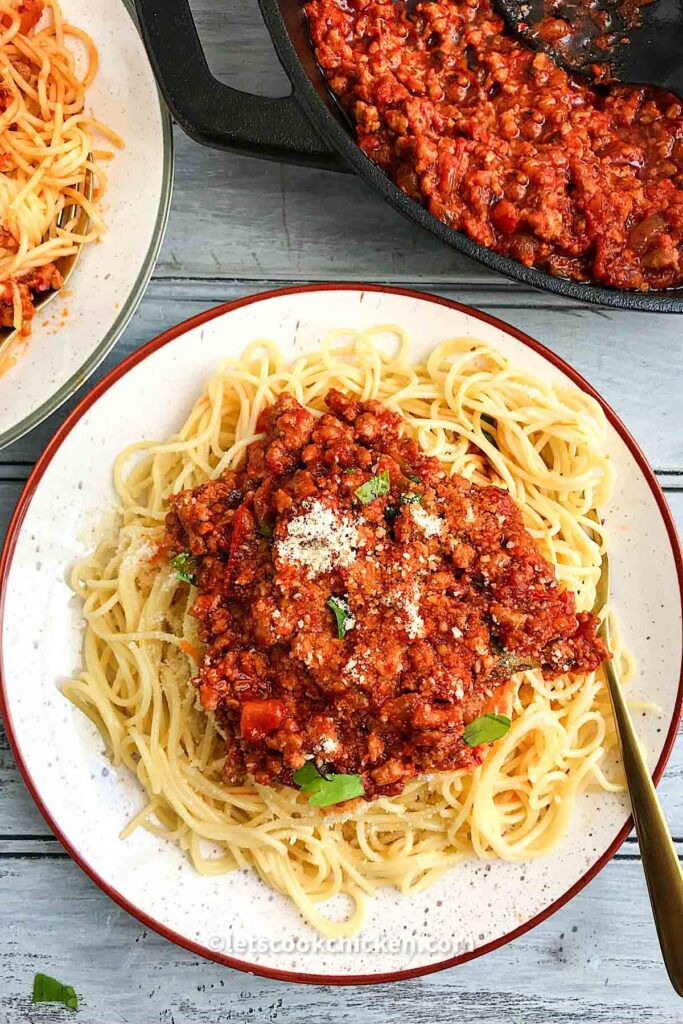 How to store and Reheat
To store and reheat Bolognese sauce properly, ensure the it has cooled down completely, then transfer into an air tight container or freezer safe bag, label container with date to keep track of freshness. Then store in the refrigerator for up to 4 days or freeze for up to 2 months.
Reheating
If the sauce is frozen, thaw it overnight in the refrigerator before reheating. When it's thawed, transfer to a microwave safe bowl if it wasn't stored there already.
Microwave at 1 min intervals till warmed through. Alternatively transfer to a skillet and warm up on the stovetop till warmed through.
Tips to make the best chicken bolognese
Ensure that the chicken is fresh and of good quality. If using whole chicken breast or thighs instead of ground chicken. You can mince the chicken in a food processor if you want a similar texture to ground chicken bolognese.
Season and brown the chicken. When browning the chicken in the skillet, allow it to develop a golden-brown color. This adds flavor and texture to the sauce.
After the adding the tomatoes and seasoning let the sauce simmer over low heat. This allows the flavors to meld together and results in a more flavorful sauce.
Bolognese sauce should have a thick consistency. You can adjust thickness to liking if you find it too thick.
If using chicken stock, leave out the bouillon powder.
FAQs
What is bolognese sauce?
Bolognese sauce, also known as ragù alla bolognese, is a rich and hearty Italian meat-based sauce that originates from the city of Bologna in northern Italy.

It is traditionally a slow-cooked sauce typically made with a combination of ground meat (such as beef, veal, or pork), aromatic vegetables (onions, carrots, and celery), tomatoes (crushed or tomato paste), and various seasonings.
Can you make bolognese with chicken breasts instead of ground chicken?
Yes, you can make Bolognese sauce with chicken breasts instead of ground chicken.

However, it will result in a different texture and flavor compared to the traditional Bolognese made with ground meat.

To adapt the recipe, you'll need to dice or finely chop the chicken breasts before cooking them in the sauce.

This will help the chicken to break down and blend with the other ingredients.

Keep in mind that the cooking time may be slightly longer since chicken chunks take longer to cook compared to ground meat.
What other ground meats can I use?
There are several other ground meats you can use to make Bolognese sauce, depending on your preference and availability. Some can be used in combination as well like ground beef and ground pork. Some common alternatives to ground chicken include

Ground Beef: This is the traditional choice for Bolognese sauce and is widely used. It offers a rich and hearty flavor.

Ground Pork: Adding ground pork can lend a slightly sweeter and fattier flavor to the sauce.

Ground Turkey: If you prefer a leaner option, ground turkey can be used. However, it may result in a milder taste compared to other meats.

Ground Veal: Veal is a tender and delicate meat that can add a unique flavor to the Bolognese sauce.
Can you make spaghetti bolognese with chicken?
Yes, you can make spaghetti Bolognese with chicken. While it's not the traditional choice, you can adapt the recipe to use chicken instead of the more commonly used ground beef or pork.

To do so, you'll need to finely chop or mince the chicken breasts and cook them in the sauce just like you would with ground meat.

The cooking time may be slightly longer since chicken takes longer to cook than ground meat. However, keep in mind that the flavor and texture of the Bolognese sauce will be different from the traditional version.
More ground chickens recipe to try
Ground chicken pasta
Tasty ground chicken rice bowl
Ground chicken sloppy Joe recipe
Check out all our chicken recipes.
Did you find this chicken bolognese recipe helpful? Please leave a comment below and use the star rating to let us know how much you enjoyed it.
Have you shared this recipe yet? This is the time to use the share buttons and share this chicken recipe with your family and friends.
Thank you for stopping by. Hope to see you again soon! If you'd love more chicken recipes, sign up for our free newsletter and come hang out with us on Instagram, Facebook, Pinterest, Tiktok and YouTube for updates.
For now…. Let's cook chicken!
Love it? Pin it!
Full printable recipe
Chicken bolognese sauce
If you love ground chicken and pasta recipes, then this easy chicken bolognese recipe is right up your alley. Elevate dinner with this healthy alternative to beef Bolognese. This recipe packs a punch when it comes to flavor and requires a few ingredients and minimal prep!
Ingredients
2

tablespoons

oil

1

Onion

1

carrot

2

Garlic cloves

1

lb

ground chicken

1

teaspoon

chicken bouillon powder

1

teaspoon

Italian seasoning

15

oz

diced tomatoes

(substitute with 3 to 4 fresh tomatoes chopped)

2

Tablespoons

Tomato paste

½ to 1

cup

water

(substitute with chicken stock)

½

teaspoons

black pepper

2

Bay leaves

½

teaspoon

Red pepper flakes

¼

teaspoon

salt

(add more to taste)

½

cup

Parmesan cheese for serving
For chicken spaghetti bolognese
Instructions
Cook spaghetti according to package instructions and set aside. While pasta is cooking proceed with making the sauce.

Heat oil in a skillet over medium high heat. Add onion and garlic, and sauté for 1 to 2 minutes or until softened.

Next add the chicken mince into the sautéed onions and, increase the heat. Break ground chicken into smaller bits while it cooks

Add chicken bouillon powder and continue cooking until chicken is browned. Add the tomato paste and continue to cook while stirring for another couple of minutes.

Next add water or stock, bring to a simmer for a minute, then add the diced tomatoes, tomato paste, Italian seasoning, red pepper flakes,carrots (if using) and black pepper.

Continue cooking on low simmer for a 15 to 20 mins stirring frequently to prevent burning. If find that it's getting too thick, free to add some more water to thin it out to your desired thickness.

Taste and adjust for salt and pepper if needed serve over spaghetti. Alternatively toss the spaghetti in the sauce.
Notes
Multitasking is key. When cooking spaghetti set a timer do you don't over cook it while making the sauce. Alternatively make the sauce first cooking the pasta.
A good Bolognese sauce benefits from a good simmer.
This recipe is dairy free, feel free to stir in ¼ cup of milk of choice such as heavy cream or half and half and coconut milk for a dairy free option.
If you are using chicken bouillon use water instead of stock.
Nutrition
Calories:
588
kcal
Carbohydrates:
75
g
Protein:
33
g
Fat:
18
g
Saturated Fat:
3
g
Polyunsaturated Fat:
4
g
Monounsaturated Fat:
9
g
Trans Fat:
0.1
g
Cholesterol:
98
mg
Sodium:
429
mg
Potassium:
1174
mg
Fiber:
5
g
Sugar:
8
g
Vitamin A:
2882
IU
Vitamin C:
15
mg
Calcium:
87
mg
Iron:
4
mg