Butter chicken pasta is one of our favorite ways to visit India right without traveling. This chicken pasta dish isn't a traditional Indian recipe per se but the butter chicken sauce that compliments this pasta is.
This recipe gets ready in less than 30 mins and is packed full of flavor. We love how easy this chicken curry pasta is making it perfect for busy weeknight and lazy weekends.
Since you love easy chicken dinner ideas you should check out our chicken spaghetti bolognese recipe and butter chicken and naan next.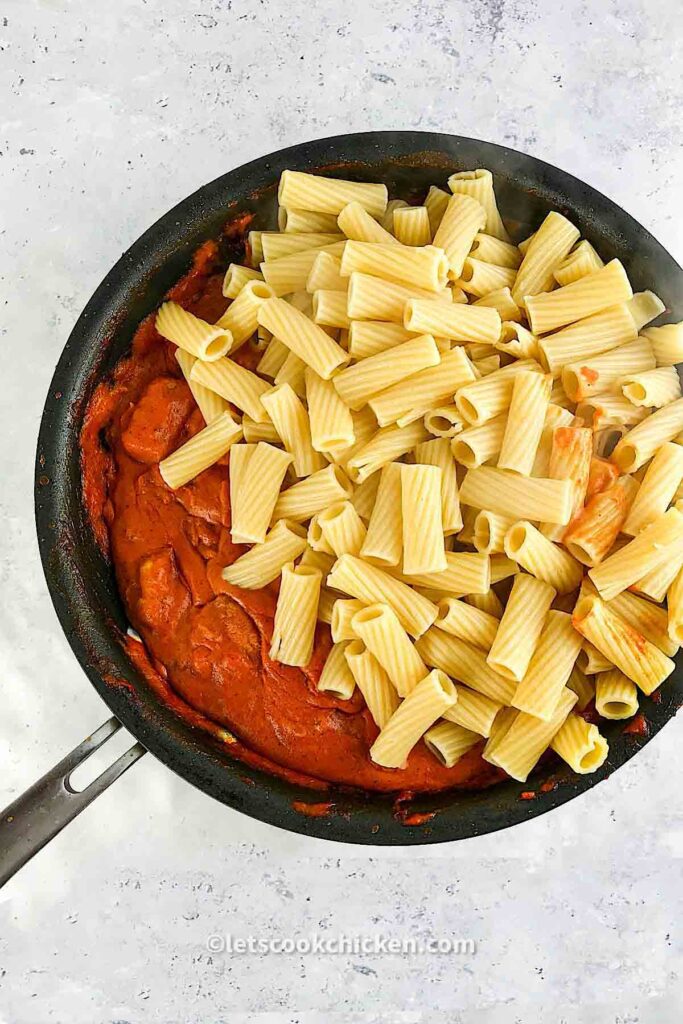 This recipe post contains helpful tips, tricks and answers to FAQs. Please read through to ensure you get the recipe right when you try it.
What is Butter chicken pasta?
Butter chicken pasta is a fusion dish that combines the rich and aromatic flavors of Indian butter chicken and with the comforting and familiar taste of Italian pasta creating a unique and exciting dish for you to enjoy the best of both worlds.
It typically involves cooking pasta and tossing it with Butter chicken, (a creamy tomato-based sauce infused with spices like garam masala seasoning, ginger, garlic, etc)
This pasta dish often includes chunks of chicken breasts or thighs and so delicious. It's a delightful blend of two popular cuisines, creating a unique and flavorful combination.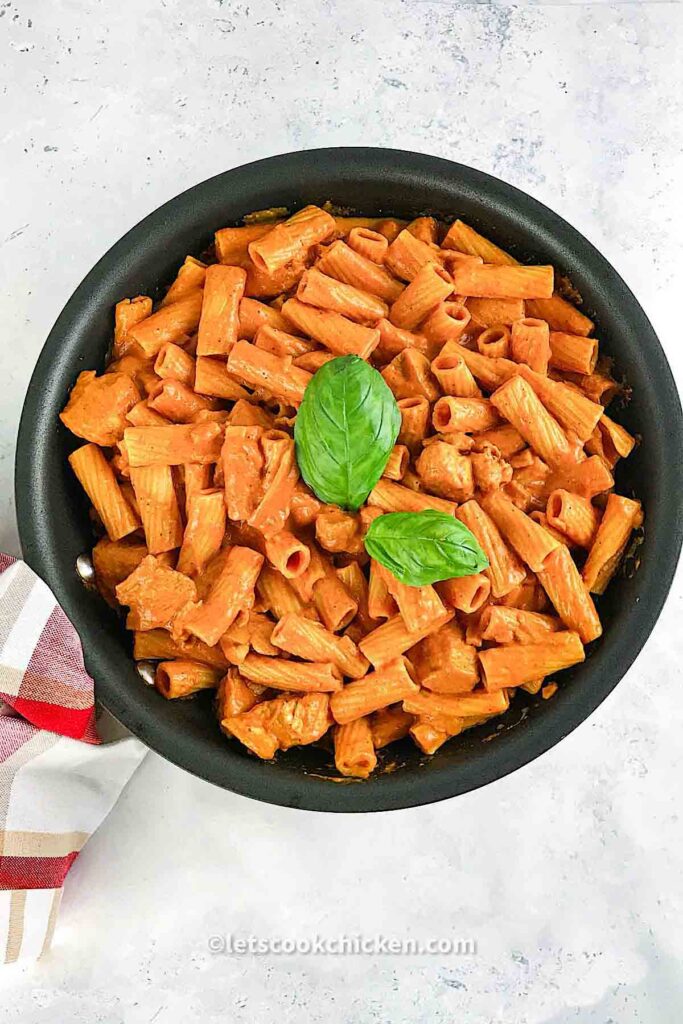 Why you'll love this recipe
Just like this Instant pot chicken tikka masala combines a piece of India and Great Britain, this Butter chicken pasta brings Indian and Italian cuisine together in one delicious combination of delightful flavors.
Creamy and indulgent: The creamy tomato-based sauce in butter chicken pasta adds a luscious texture and richness to the dish.
Bold and aromatic spices: The spices used in butter chicken, such as garam masala, ginger, and garlic, infuse the pasta dish with a wonderful depth of flavor and a delightful aroma.
Versatile protein options: You can customize the recipe by using your choice of protein. Whether it's succulent chicken, tender shrimp, or even paneer (Indian cottage cheese), you can adapt it to suit your preferences.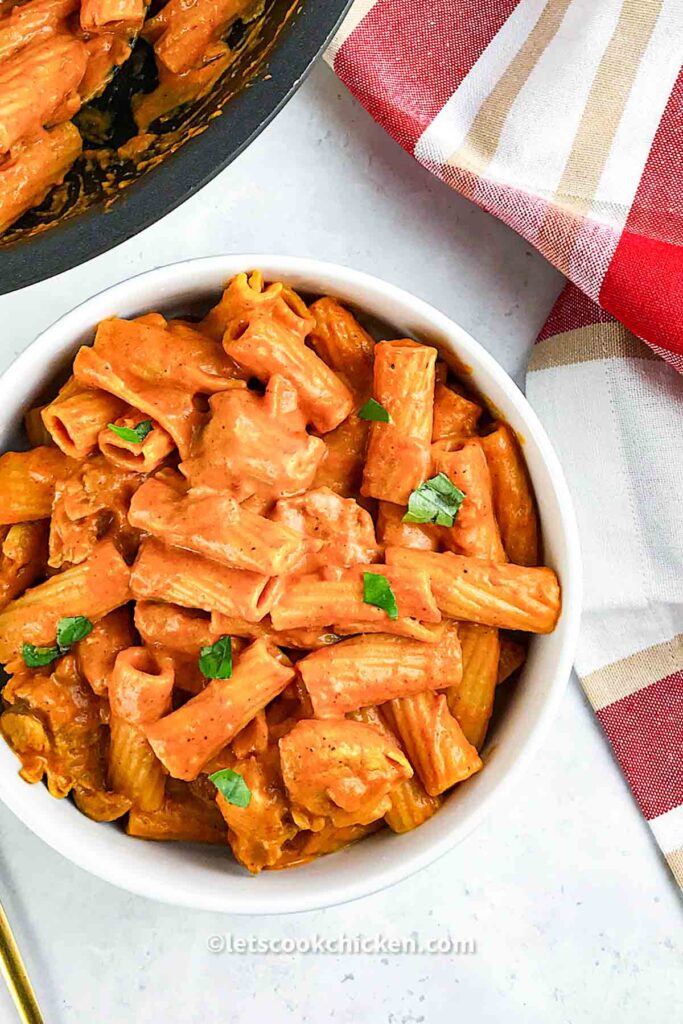 Ingredients
Oil
Onions
Cumin
Garlic powder
Chicken bouillon powder
Salt
Chicken thighs or breasts
Tomato sauce
Heavy cream
Rigatoni pasta or any other pasta of choice such as Penne, Radiotoire etc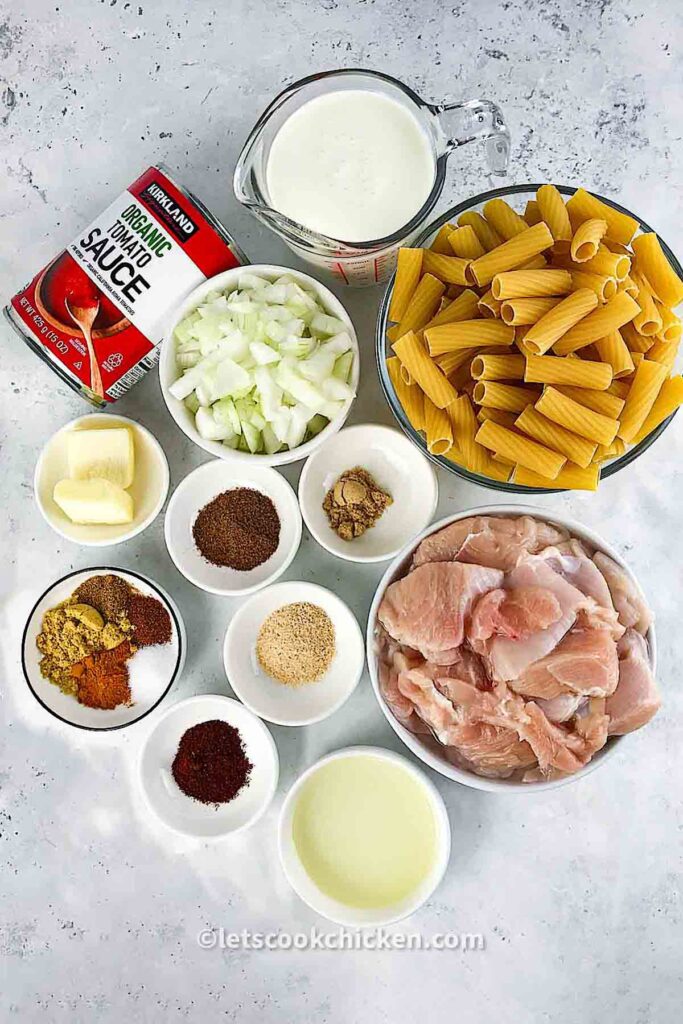 Tools used for this recipe
The list below may contain affiliate links. As an Amazon associate and affiliate to other merchants, this website may earn from qualifying purchases. Please read full disclosure here.
Deep skillet
Dutch oven
Kitchen
Cooking spoons
Knife
Cutting board
How to cook butter chicken pasta
See printable recipe card at the end of this post for ingredient quantities and full instructions!
Saute onions till soft and translucent, add chicken and seasoning and cook for about 5 mins stirring continuously while scraping down the sides of the pan.
Pour in the Tomato sauce and lower heat to allow the sauce simmer for another 5 mins stirring at intervals. This allows the chicken to continue to cook and the spices to meld into the sauce and for the sauce to reduce. (thicken)
While the sauce is cooking, bring water to boil for cooking the pasta as per package instructions.
After the sauce has thickened, stir in the cream and butter and cook for 2 more minutes. Turn off heat and toss pasta in the butter chicken sauce and serve.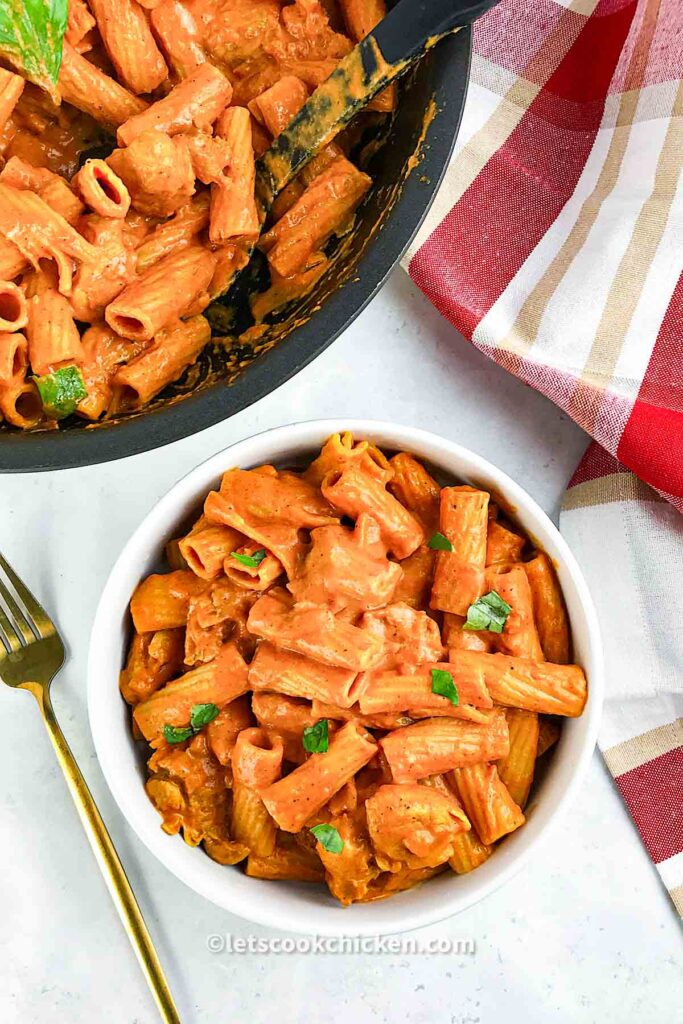 What to serve with butter chicken Rigatoni pasta
Naan
Salads
Roasted vegetables
Cucumber raita
How to store and Reheat creamy butter chicken pasta
Allow the pasta to cool down to room temperature before storing. Transfer the pasta to an airtight container. Glass or plastic containers with tight-fitting lids work well for this purpose.
Place the container in the refrigerator and ensure it is stored at a temperature below 40°F (4°C). Creamy pasta can typically be refrigerated for up to 3-5 days.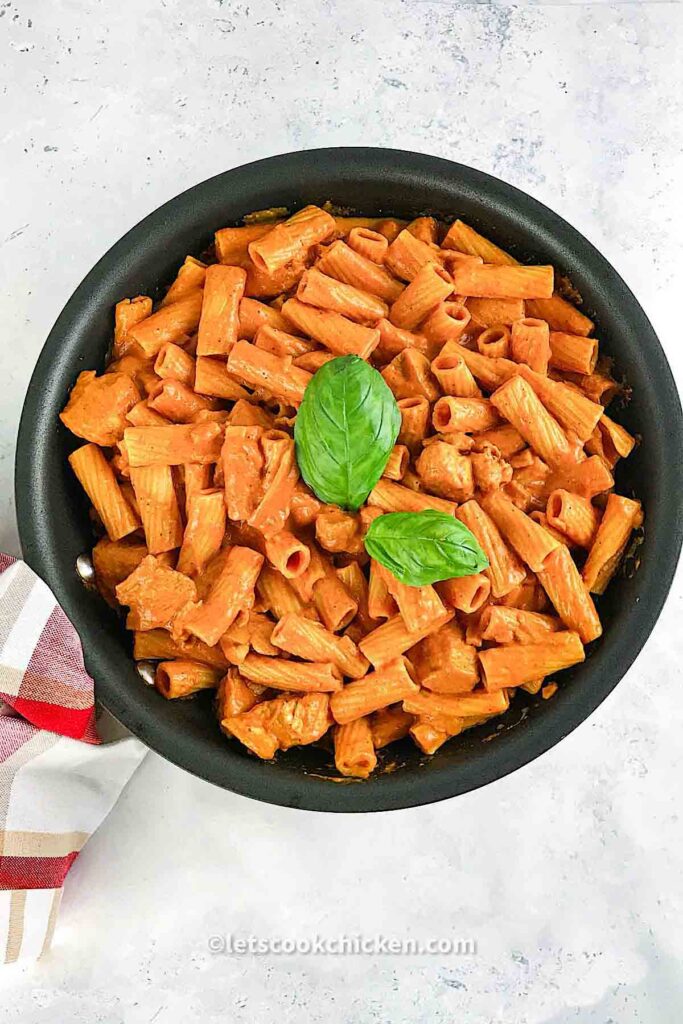 Reheating
Remove the container from the refrigerator and take off the lid. Transfer the desired portion of pasta into a microwave-safe dish. If the pasta has become too thick in the refrigerator, you can add a small amount of milk or cream to loosen it up.
Microwave the pasta on medium power in short intervals, stirring occasionally. This helps to ensure even heating without drying out the sauce or overheating it. Be cautious not to overcook it, as the creamy sauce can become grainy or separate.
Alternatively, you can reheat the pasta on the stovetop. Place it in a saucepan over medium-low heat and stir gently until it reaches the desired temperature. Again, if the sauce is too thick, you can add a splash of milk or cream to adjust the consistency.
Once heated through, remove the pasta from the heat and serve immediately.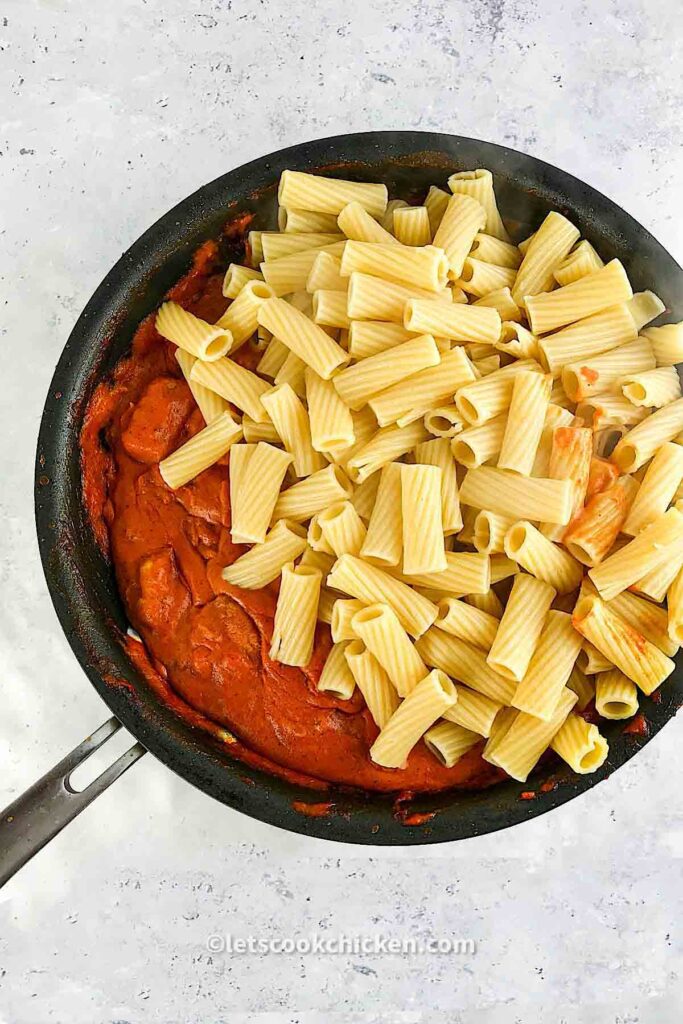 Pro Tips
Cut chicken into equal pieces
Choose the right pasta: While spaghetti can work for this recipe, opt for a pasta shape that can hold the creamy butter chicken sauce well. Rigatoni Penne, macaroni, fusilli, or rotini work nicely as they catch the sauce in their nooks and crannies.
Do not over cook the pasta. Cook till al dente (which means it still has a bite to it) Different types of pasta have different cooking times. Rigatoni cooks in 10 mins. However I start checking it at 8 mins. I recommend you use a timer for this.
Reserve some pasta water about ½ cup. This will help loosen the pasta without making it watery if you want the pasta really saucy particularly if you are serving with naan.
Add the butter when adding the cream.
Remember to adjust the seasonings according to your taste.
FAQs
Can I make butter chicken pasta vegetarian or vegan?
Yes, you can adapt the recipe to make it vegetarian or vegan. For a vegetarian version, you can substitute the chicken with tofu, paneer (Indian cottage cheese), or a medley of vegetables like mushrooms, bell peppers, and peas. To make it vegan, use plant-based yogurt, cream alternatives, and butter substitutes. Additionally, ensure that all the ingredients, including the pasta, are vegan-friendly.
Can I use pre-made butter chicken sauce or leftovers?
Certainly! If you have pre-made butter chicken sauce or leftovers, you can use them to make butter chicken pasta. Heat the sauce separately and adjust its consistency if needed. Then combine it with cooked pasta and chicken, allowing the flavors to blend together.
How can I make the dish spicier or milder?
To make butter chicken pasta spicier, increase the amount of chili powder, paprika, or other spicy ingredients in the butter chicken sauce. You can also add chopped green chilies or a dash of hot sauce to the sauce while cooking. Conversely, if you prefer a milder flavor, reduce or omit the spicy ingredients and use mild or sweet paprika instead.
What side dishes go well with butter chicken pasta?
There are several side dishes that complement butter chicken pasta. Some popular options include garlic naan or bread, vegetable biryani, cucumber raita (yogurt sauce), mixed greens salad, or roasted vegetables. These sides can add variety, freshness, and additional textures to your meal.
More Recipes like this
Rigatoni chicken bolognese
Butter chicken and naan
Check out all our chicken recipes.
This butter chicken pasta recipe is a delightful dish that offers blend of flavors, a creamy and indulgent texture, and the chance to explore the fusion of two culinary worlds.
Did you find this helpful? Please leave a comment below and use the star rating to let us know how much you enjoyed it.
Have you shared this recipe yet? This is the time to use the share buttons and share this chicken recipe with your family and friends.
Thank you for stopping by. Hope to see you again soon! If you'd love more chicken recipes, sign up for our free newsletter and come hang out with us on Instagram, Facebook, Pinterest, Tiktok and YouTube for updates.
For now…. Let's cook chicken!
Love it? Pin it!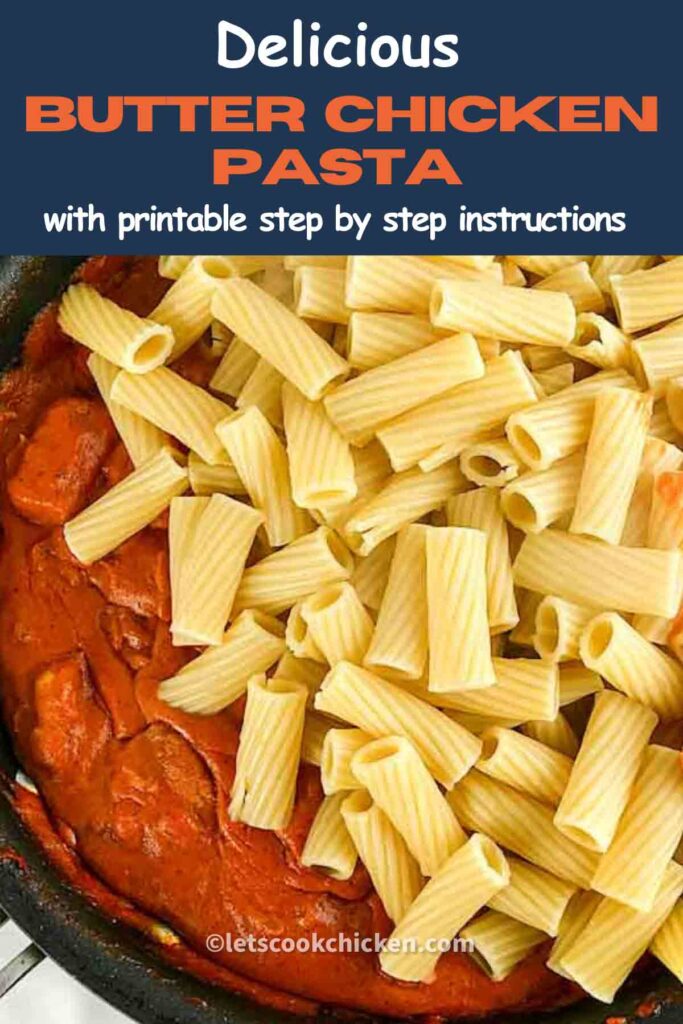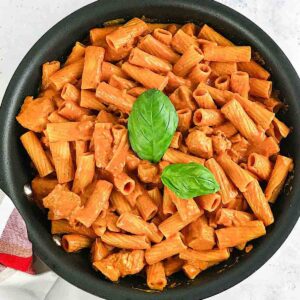 Creamy butter chicken pasta
Butter chicken pasta is one of our favorite ways to visit India right without traveling. This chicken pasta dish isn't a traditional Indian recipe per se but the butter chicken sauce that compliments this pasta is.
Ingredients
2

lbs

boneless chicken

cut into small pieces

2

tablespoon

butter

2

tablespoon

oil

1

onion

finely chopped

1

teaspoon

garlic granules

1

teaspoon

ground ginger

½

teaspoon

cumin

1 -2

teaspoon

garam masala

1

teaspoon

chili powder

adjust to taste

½

teaspoon

cayenne powder

1

teaspoon

turmeric powder

15

oz

tomato sauce

¾

cup

heavy cream

1

teaspoon

Chicken bouillon powder

¼

teaspoon

Salt

(or to taste)

Fresh cilantro leaves for garnish

16

Oz

cooked pasta of your choice

1

cup

pasta water (reserve)
Instructions
Heat oil in a large pan over medium heat.

Add the chopped onion and Sauté until the onions become translucent.

Add the chicken pieces and all the seasoning stir well to coat the chicken evenly with the spices.

Continue to cook chicken until they are no longer pink.

Pour in the tomato sauce and simmer on medium low for about 5 to 8 mins or until the sauce thickens slightly.

Reduce the heat to low and stir in the heavy cream and butter. Simmer for a few minutes to allow the flavors to meld together.

Meanwhile, cook the pasta according to the package instructions until al dente. Drain the pasta.

Add the cooked pasta to the sauce and toss gently to coat the pasta with the butter chicken sauce.

Garnish with fresh cilantro leaves.

Serve the butter chicken pasta hot and enjoy!
Notes
Cut chicken into similar sizes.
Feel free to adjust the spices and seasonings according to your taste preferences. You can also add vegetables like bell peppers or peas to for a healthy twist.
Reserve ½ cup of pasta sauce to add to the pasta if want a more saucy pasta.
Nutrition
Calories:
404
kcal
Carbohydrates:
6
g
Protein:
20
g
Fat:
34
g
Saturated Fat:
12
g
Polyunsaturated Fat:
5
g
Monounsaturated Fat:
13
g
Trans Fat:
0.2
g
Cholesterol:
144
mg
Sodium:
373
mg
Potassium:
454
mg
Fiber:
1
g
Sugar:
3
g
Vitamin A:
810
IU
Vitamin C:
5
mg
Calcium:
38
mg
Iron:
2
mg