Ditch store bought and make this homemade Mayo ketchup sauce also called Mayochup in less than 5 minutes. Mayonnaise and Ketchup make a great combo sauce for chicken wings and fries, grilled chicken burger and even chicken salads.
If you love Heinz combo sauces you should try our Mayocue and Mayomust homemade versions next. Super easy and versatile!
This recipe post contains helpful tips, tricks and answers to FAQs. Please read through to ensure you get the recipe right when you try it.
What is Mayochup?
Mayochup is a Heinz brand condiment that is a combination of mayonnaise and ketchup. It is often used as a dipping sauce for various foods, such as fries, chicken nuggets, and burgers.
The proportions of mayonnaise and ketchup can vary, and some commercial versions of Mayochup may also include additional ingredients for flavor enhancement.
It's a convenient option for those who enjoy the flavors of both mayonnaise and ketchup and want to combine them into a single sauce.
Why you'll love this recipe
Easy to make: this homemade Heinz combo sauce is super easy to make and tastes so good. You get a restaurant quality sauce in less than 5 mins.
Tasty: Mayo ketchup offers a tasty blend of creamy mayonnaise and ketchup that's perfect for fries, burgers and salads.
Picky eater approved: The versatility of Mayochup makes it suitable for a wide range of palates. It's kid friendly and can be used as a dip, spread, or topping for sandwiches, burgers, wraps, grilled meats, and more.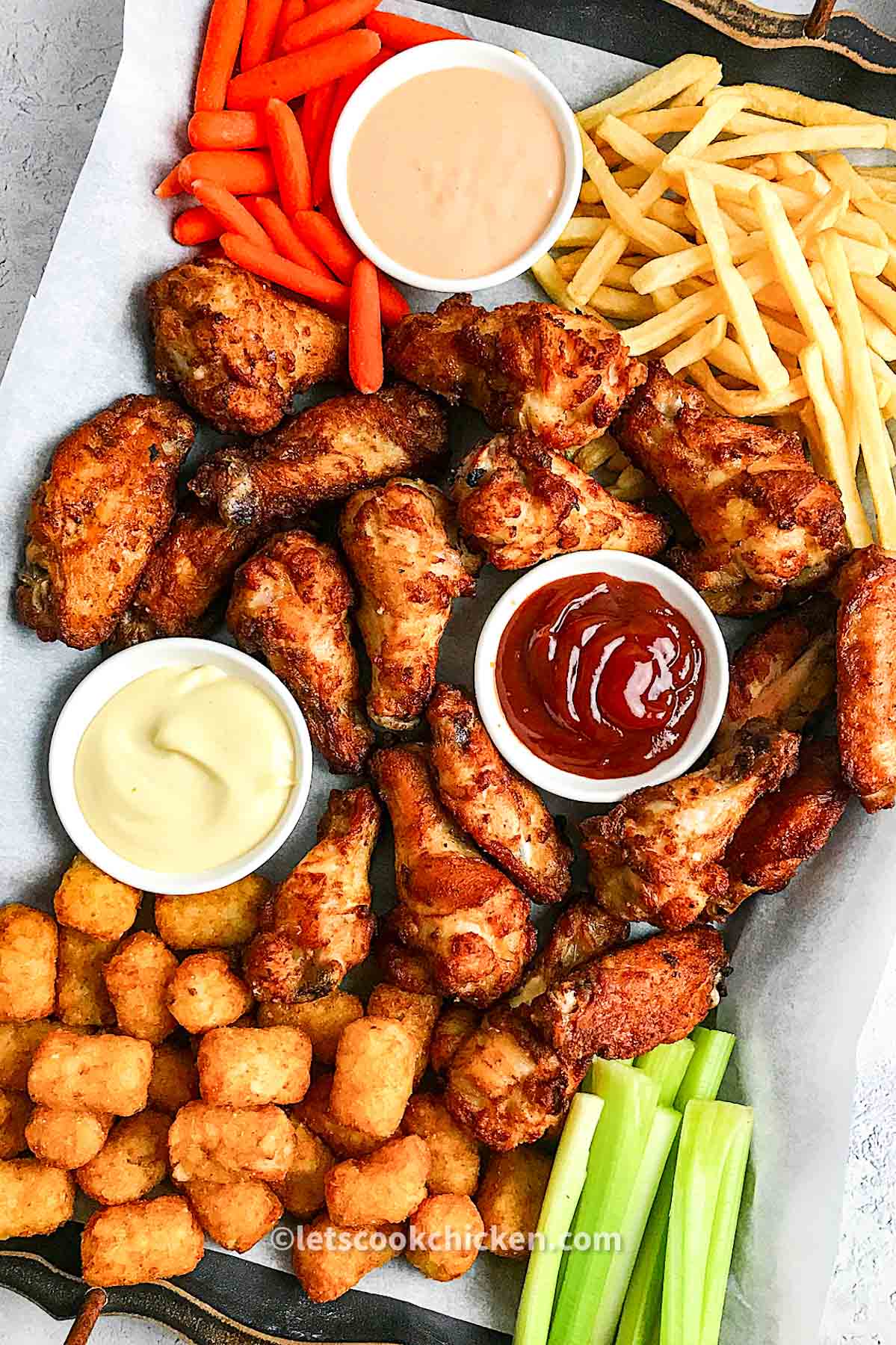 Ingredients
Mayonnaise: I used full fat mayonnaise. Feel free to use low fat mayonnaise if you prefer.
Ketchup: You can use any brand of ketchup including sugar free or store bought.
Tools used for this recipe
The list below may contain affiliate links. As an Amazon associate and affiliate to other merchants, this website may earn from qualifying purchases. Please read full disclosure here.
Small mixing bowl
Small whisk or fork
Dip bowls for serving
Mason jars for storage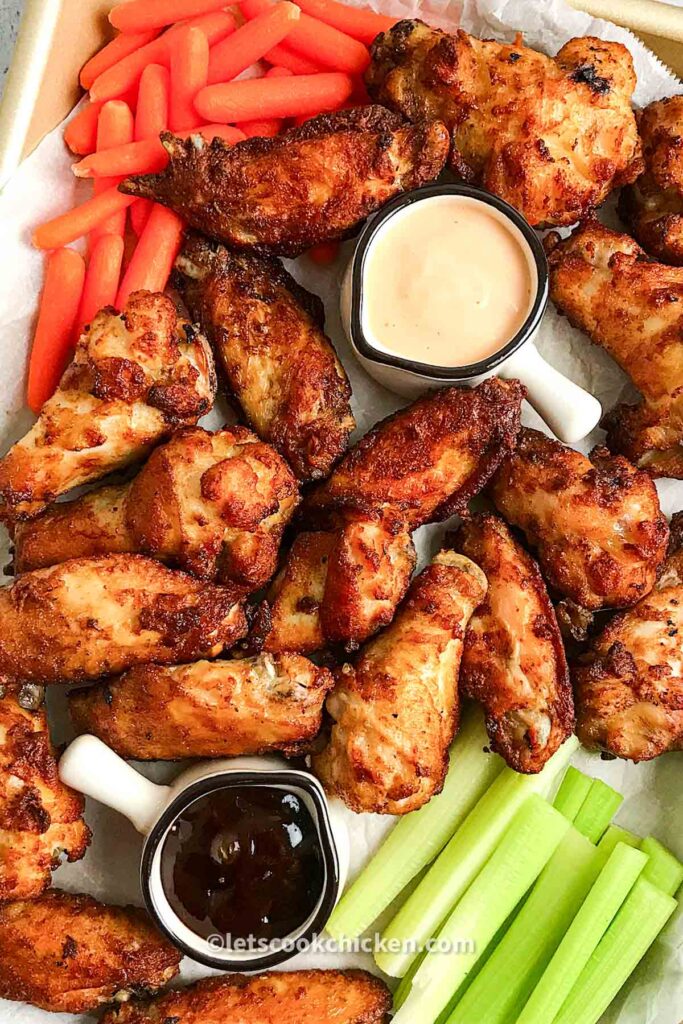 How to make Mayo Ketchup (Ketchup mayonnaise sauce)
See printable recipe card at the end of this post for ingredient quantities and full instructions!
Measure the ingredients into a small mixing bowl.
Then mix with whisk or fork till well combined.
How to use homemade Mayochup
This Mayo ketchup is ready to add a unique twist to your favorite dishes such as this frozen chicken wings in air fryer!
Enjoy it as a dip, spread, or topping, and get creative with how you use it in your meals! We usually use it as a dip for all types of fries. Mayocue is great as a burger sauce for our grilled chicken burgers or salad dressing for chicken salads.
Mayo Ketchup variations
Spicy Mayo Ketchup: Want a little kick? Add some Sriracha sauce, chili sauce or Franks hot sauce to the mix and amp the heat s bit! This is my favorite way to enjoy
Ketchup and mayonnaise dressing: Loosen up the sauce by adding some white vinegar and use as a salad dressing.
Salsa Rosada: is a cocktail sauce also known pink sauce. It's a Puerto Rican Version of Mayo Ketchup sauce. There are varying ingredients in this sauce, in addition to hot sauce, some include some alcohol (rum or brandy) and lemon or orange juice while others include sweet relish or Worcestershire sauce.
How to store
After mixing transfer the Mayo ketchup sauce to a clean and airtight dip container with a lid. Glass or plastic containers with a tight-fitting lid work well for storing condiments.
Put it in the refrigerator as soon as possible. This will help maintain its quality and prevent bacterial growth.
Homemade Mayochup should be consumed within a week.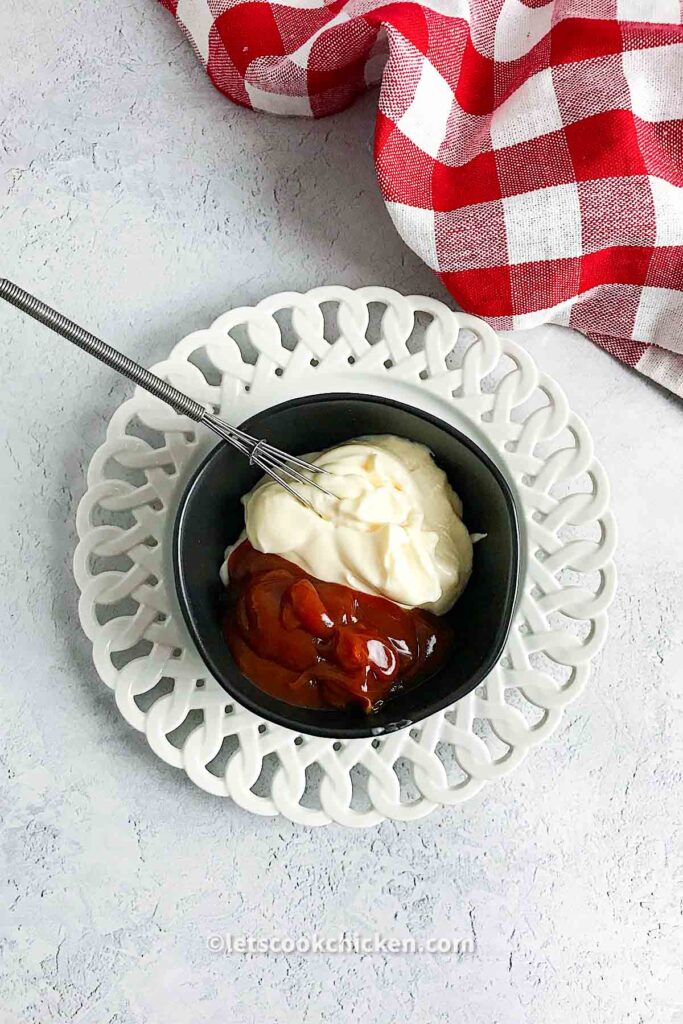 Tips
Proportions: Start with equal 1:2 ratio of mayonnaise to ketchup as a base. You can adjust the ratios based on your taste preferences. If you like it more tangy, add a bit more ketchup; if you prefer creaminess, add more mayonnaise.
Mixing: Combine the mayonnaise and ketchup in a bowl. Use a whisk or a spoon to thoroughly mix the two ingredients together until you achieve a smooth and consistent texture.
Flavor Enhancements: Consider adding additional ingredients to customize the flavor. Common options include a dash of vinegar, a pinch of garlic powder, a touch of mustard, or some black pepper. Experiment with small amounts and adjust to your liking.
Chilling Time: Allow the Mayochup to sit in the refrigerator for about 30 minutes before serving. This resting period allows the flavors to meld and develop, resulting in a more balanced and flavorful sauce.
FAQs
Is Mayochup the same as fry sauce?
Mayochup and fry sauce are similar condiments, but they are not exactly the same.

Mayochup typically combines mayonnaise and ketchup, while fry sauce can include a variety of ingredients like mayonnaise, Worcestershire sauce, vinegar, mustard, and spices.

However, the exact recipes can vary, and different regions might have their own versions of these sauces.
What is the name for ketchup and Mayo sauce combo?
The combination of ketchup and mayonnaise is commonly referred to as "Mayochup." Since it's a blend of the two condiments to create a single sauce with flavors from both ketchup and mayo.
How long does this Mayo ketchup sauce last in the refrigerator?
Homemade Mayochup should be consumed within a week.
Are there any cultural variations of Mayochup?
Mayochup or similar sauces are found in various cultures around the world. For example, "fry sauce" is popular in some parts of the United States, while "salsa rosada" is a similar condiment enjoyed in Latin American countries.
Is Mayo Ketchup (Mayochup) a commercially available product?
Yes, Mayochup is available as a pre-made condiment from certain brands. Such as Heinz, Kraft and even store brands. It's sold in bottles and can be found in many grocery stores. However, you can also easily make it at home using mayonnaise and ketchup.
Can I use low-fat or vegan mayonnaise for Mayochup?
Yes, you can use low-fat or plant based mayonnaise as a base for Mayochup. The choice of mayonnaise will affect the overall flavor and texture of the sauce, so feel free to experiment with different options.
Did you find this mayo ketchup dip recipe helpful? Please leave a comment below and use the star rating to let us know how much you enjoyed it.
Have you shared this recipe yet? This is the time to use the share buttons and share this chicken recipe with your family and friends.
Thank you for stopping by. Hope to see you again soon! If you'd love more chicken recipes, sign up for our free newsletter and come hang out with us on Instagram, Facebook, Pinterest, Tiktok and YouTube for updates.
For now…. Let's cook chicken!
Love it? Pin it!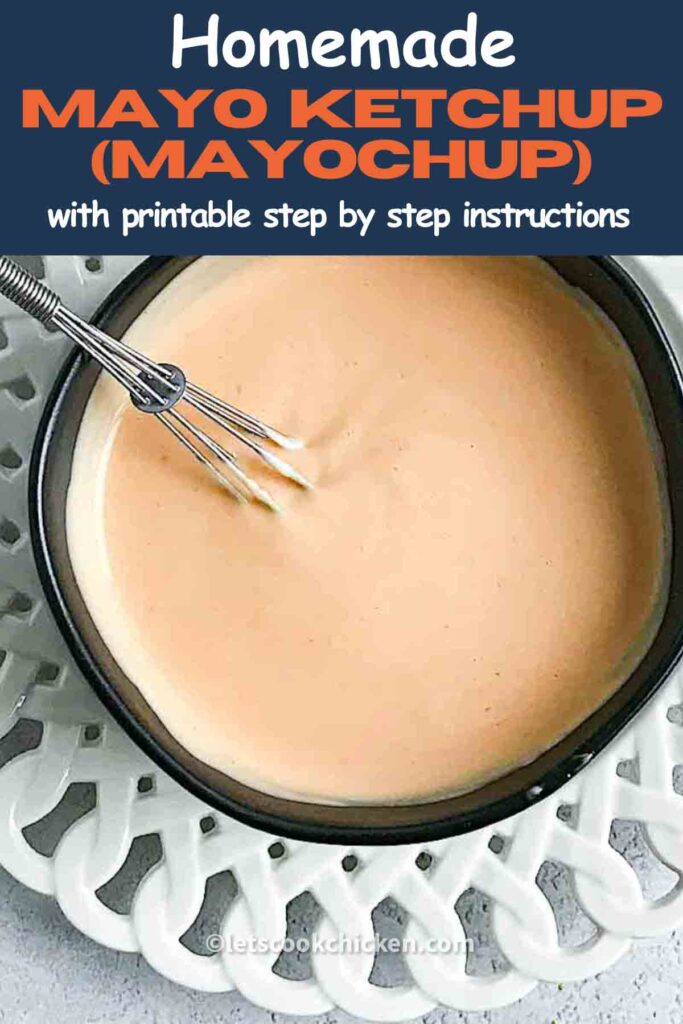 Easy Mayo ketchup recipe
Ditch store bought and make this homemade Mayo ketchup sauce also called Mayochup in less than 5 minutes. Mayonnaise and Ketchup make a great combo sauce for chicken wings and fries, grilled chicken burger and even chicken salads.
Ingredients
½

cup

mayonnaise

¼

cup

Ketchup
Instructions
In a mixing bowl, combine the mayonnaise and ketchup.

Stir the two ingredients together until well blended and smooth.

Taste the mixture and adjust the ratio of mayo to Ketchup according to your preference. If you want it creamier, add more mayo; if you desire a stronger ketchup flavor, add more ketchup.

Once you achieve the desired taste and consistency, transfer your homemade mayochup into a clean jar or container with a lid.

Store it in the refrigerator until ready to use.
Nutrition
Calories:
111
kcal
Carbohydrates:
4
g
Protein:
0.2
g
Fat:
11
g
Saturated Fat:
2
g
Polyunsaturated Fat:
6
g
Monounsaturated Fat:
2
g
Trans Fat:
0.03
g
Cholesterol:
6
mg
Sodium:
181
mg
Potassium:
24
mg
Fiber:
0.1
g
Sugar:
3
g
Vitamin A:
29
IU
Vitamin C:
0.1
mg
Calcium:
4
mg
Iron:
0.1
mg