Marsala vs masala, what's the difference? When it comes to exploring the world of flavors and spices, two seemingly similar terms can often cause confusion among food enthusiasts: Marsala and Masala is one of them.
Although they share similar-sounding names, these culinary ingredients hail from completely different cultures and contribute unique characteristics to the dishes in which they are used.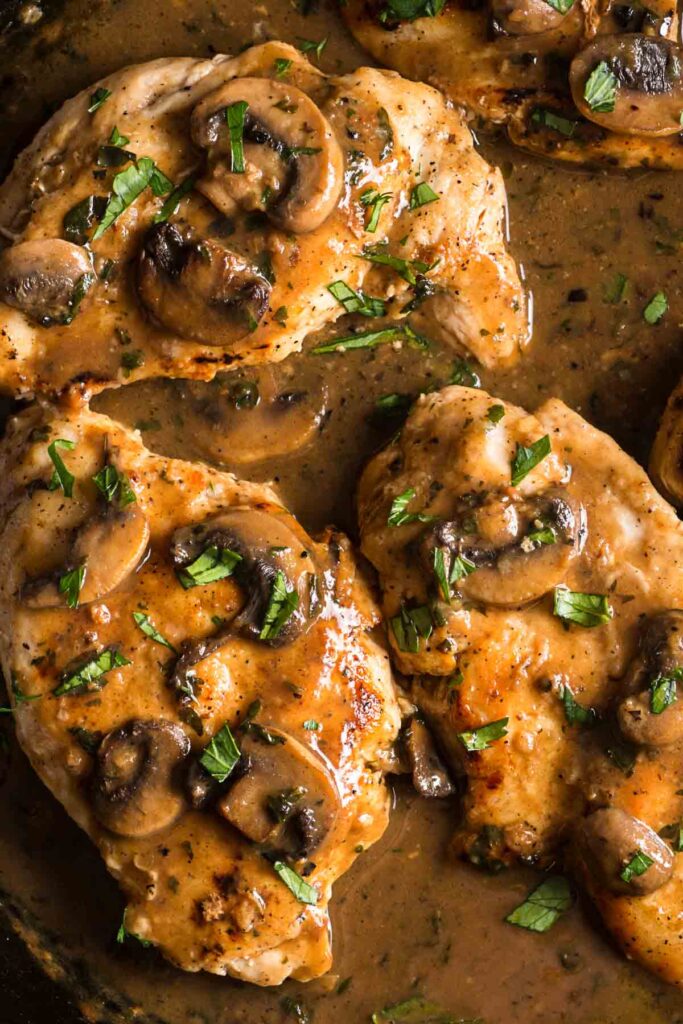 Marsala vs Masala: what's the difference?
We'll start by defining what each word then we proceed to sharing recipes made with each.
What is Marsala?
Marsala is a fortified wine that has been celebrated in the culinary world for centuries. Originating from the picturesque Italian region of Sicily in a town called Marsala.
Made from white grape varieties, the wine is aged in wooden casks, developing its distinct flavors and aroma.
Marsala comes in three main categories: sweet, semi-dry, and dry, with each type lending a different dimension to various dishes.
According to Wine folly, if you buy a bottle of Marsala wine that's not from Sicily, it shouldn't be trusted.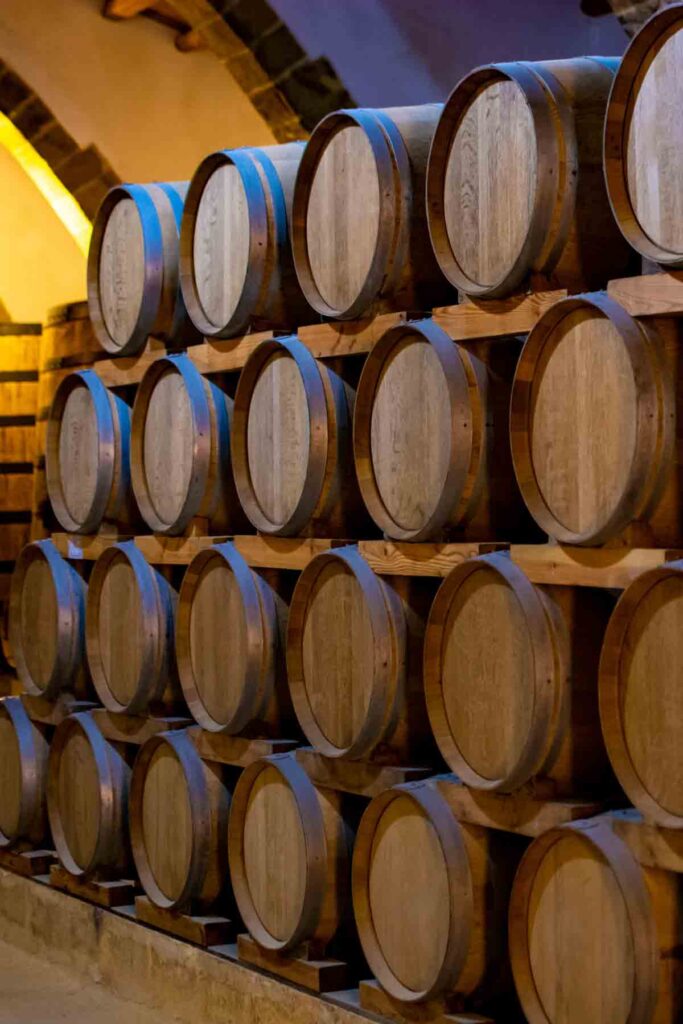 What is Masala?
In contrast to Marsala, Masala refers to a blend of ground spices originating from the Indian subcontinent.
The word "Masala" translates to "spice" in Hindi, and these spice mixtures vary widely based on regional preferences and traditional family recipes.
A typical masala seasoning may include a combination of coriander, cumin, turmeric, cloves, cardamom, and other aromatic spices.
Masalas are the foundation of Indian cuisine, providing depth, complexity, and a harmonious balance of flavors to a wide range of dishes.
From the fiery heat of the Garam Masala to the aromatic warmth of the Chai Masala, these spice blends are what make Indian curries, biryanis, and masala chai truly special.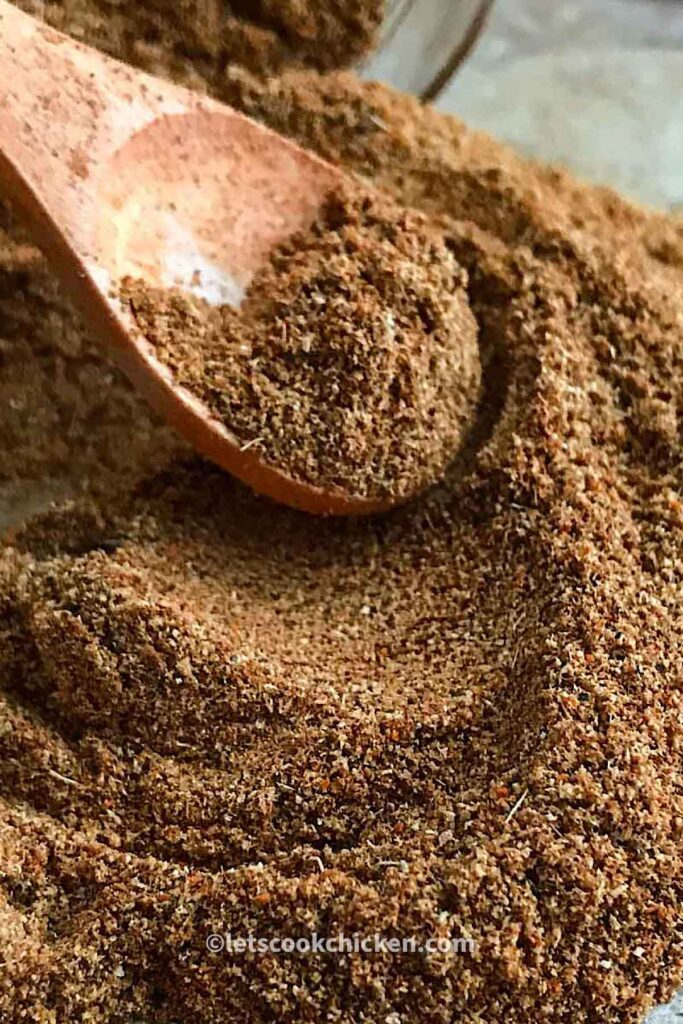 Recipes using Marsala cooking wine
Marsala wine is a versatile ingredient that can add depth and richness to both savory and sweet dishes. Here are a few classic recipes that use Marsala wine
A beloved Italian-American dish, Chicken Marsala features tender chicken breasts cooked in a savory sauce made with Marsala wine, mushrooms, garlic, and shallots.
The wine imparts a unique flavor to the sauce, creating a delicious and comforting meal. We've got an interesting article on best sides for Chicken Marsala, you should check out!
Upgrade your traditional risotto by incorporating Marsala wine into the cooking process. The wine adds a subtle sweetness and complexity to the creamy rice dish, elevating it to a whole new level of deliciousness.
This vegetarian-friendly sauce is a versatile accompaniment that can be served over pasta, rice, or even grilled vegetables. The rich flavors of Marsala wine complement the earthy taste of sautéed mushrooms, making it a perfect addition to any meal.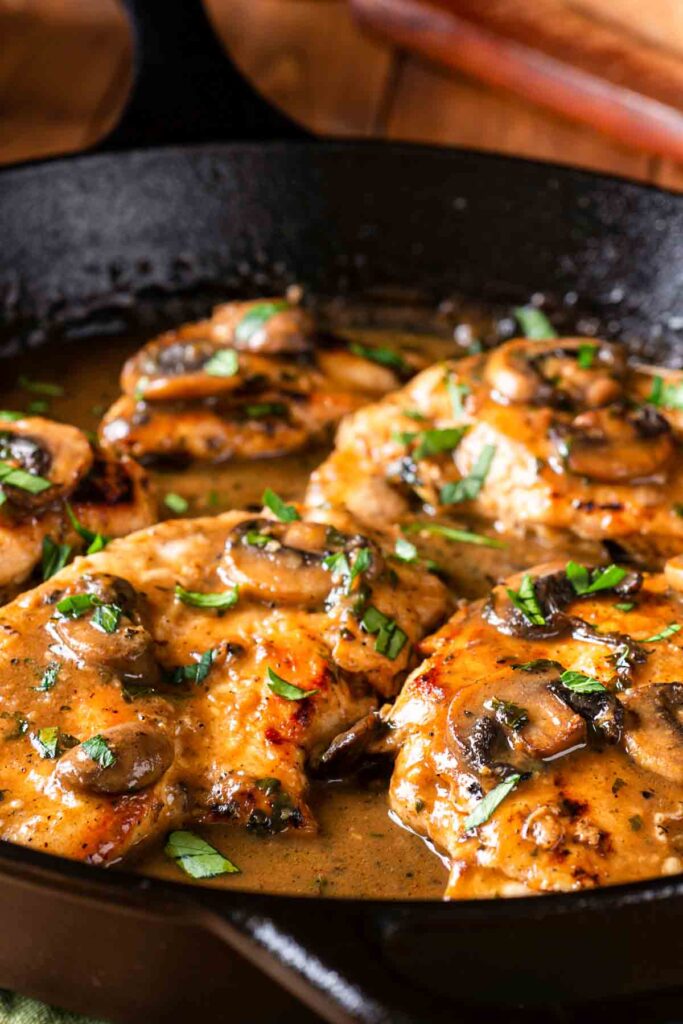 Similar to Chicken Marsala, Veal Marsala is a classic Italian dish that pairs tender veal cutlets with a delectable Marsala wine sauce. The combination of the tender meat and the flavorful sauce makes this dish a true culinary delight.
Enhance the flavor of a hearty beef stew by incorporating Marsala wine into the cooking process. The wine complements the beef and vegetables, creating a comforting and flavorful dish perfect for chilly days.
A beloved Italian dessert, Tiramisu features layers of coffee-soaked ladyfingers and a creamy mascarpone cheese mixture. Marsala wine is often used to soak the ladyfingers, infusing the dessert with a delightful boozy flavor.
For a delightful and elegant dessert, try poaching pears in a mixture of Marsala wine, sugar, and spices. The result is tender, aromatic pears that can be served with a dollop of whipped cream or vanilla ice cream.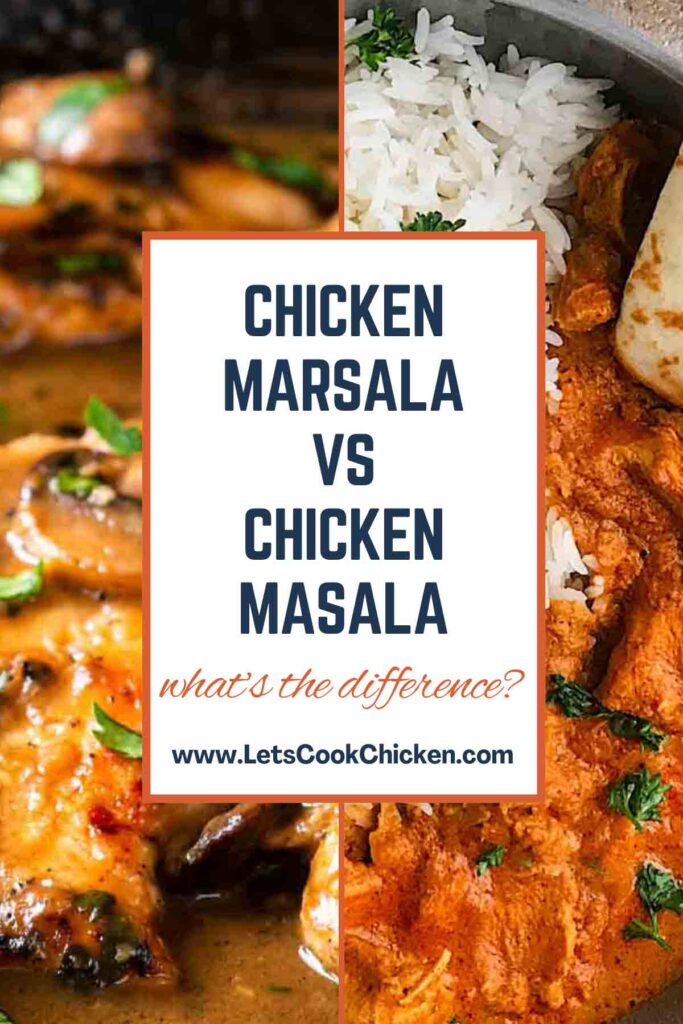 Recipes using Masala
Masala, the blend of ground spices from the Indian subcontinent, is a key component in numerous Indian dishes. Here are some popular recipes that use various types of Masala
A well-known and beloved Indian dish, Chicken Tikka Masala features marinated and grilled chicken pieces cooked in a creamy tomato-based sauce infused with aromatic spices like Garam Masala, cumin, coriander, and paprika.

This vegetarian dish showcases chickpeas cooked in a flavorful tomato and onion gravy seasoned with Garam Masala, cumin, turmeric, and other spices. It's a hearty and satisfying meal, often served with naan or rice.
A simple yet delightful recipe, where a mix of seasonal vegetables is tossed with Garam Masala, salt, pepper, and olive oil before being roasted to perfection. The spice blend adds warmth and depth to the vegetables.
A spiced tea blend that is an integral part of Indian culture. Masala Chai features black tea leaves simmered in water with a combination of spices like cardamom, cinnamon, ginger, cloves, and black pepper, then finished with milk and sweetener.
A classic North Indian dish that combines potatoes (aloo) and cauliflower (gobi) with a delightful blend of spices such as cumin, turmeric, coriander, and Garam Masala. It's a comforting and flavorful vegetarian curry.
Similar to Chicken Tikka Masala, this vegetarian version features marinated and grilled paneer (Indian cottage cheese) cooked in a creamy tomato-based sauce enriched with Garam Masala and other spices.

A creamy and hearty lentil dish that typically includes black lentils (urad dal) and kidney beans (rajma) simmered with Garam Masala, tomatoes, ginger, and garlic. It's often finished with a dollop of butter or cream.

A popular Indian snack, Samosas are crispy pastry pockets filled with spiced potatoes, peas, and sometimes minced meat. The filling is seasoned with a blend of spices that may include Garam Masala, cumin, coriander, and fennel seeds.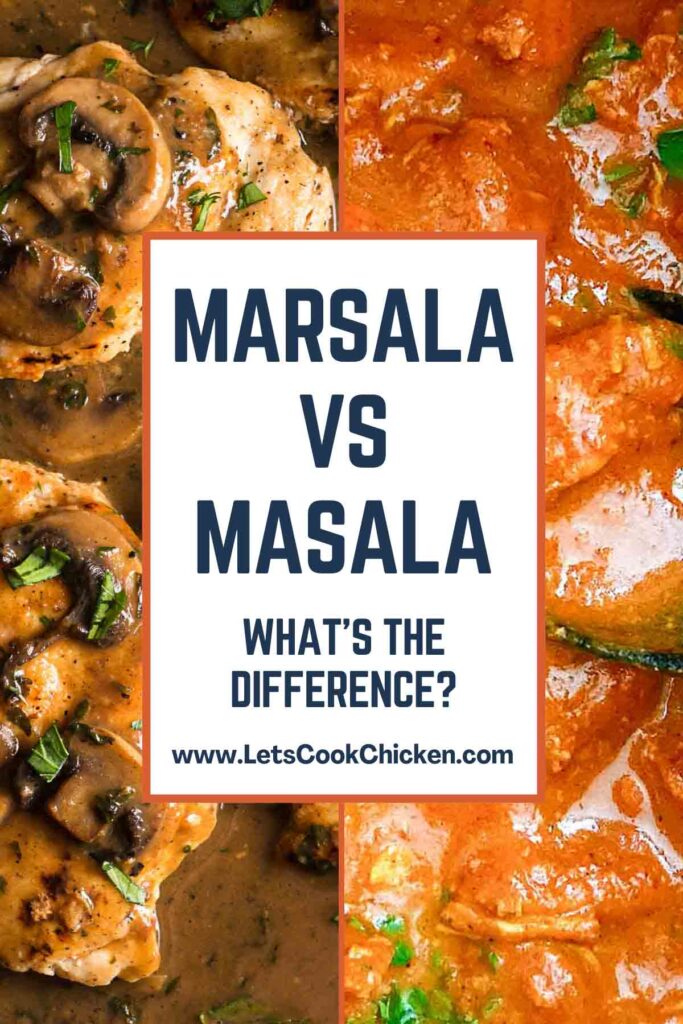 Pro Tips for using Marsala
Remember to use a quality Marsala wine in your recipes to achieve the best flavor. It doesn't have to be expensive or straight from Marsala, Sicily but it should be of good quality.
While the wine gives the masala dish a great taste. For children or adults that prefer not to have alcohol in their food, you can still make chicken Marsala without wine. Just swap out the wine with chicken stock.
From our article, you can see that, while Marsala and Masala may share a similar-sounding name, they couldn't be more distinct in their origin, composition, and culinary uses.
Marsala is an Italian fortified wine used predominantly in savory dishes and desserts, while Masala refers to an array of spice blends from the Indian subcontinent that enrich the taste and aroma of various dishes.
So, the next time you encounter these two culinary terms, Masala vs Marsala you can confidently distinguish between the Italian wine Marsala and the aromatic spice blends of Masala, celebrating the unique contributions of both to the world of gastronomy.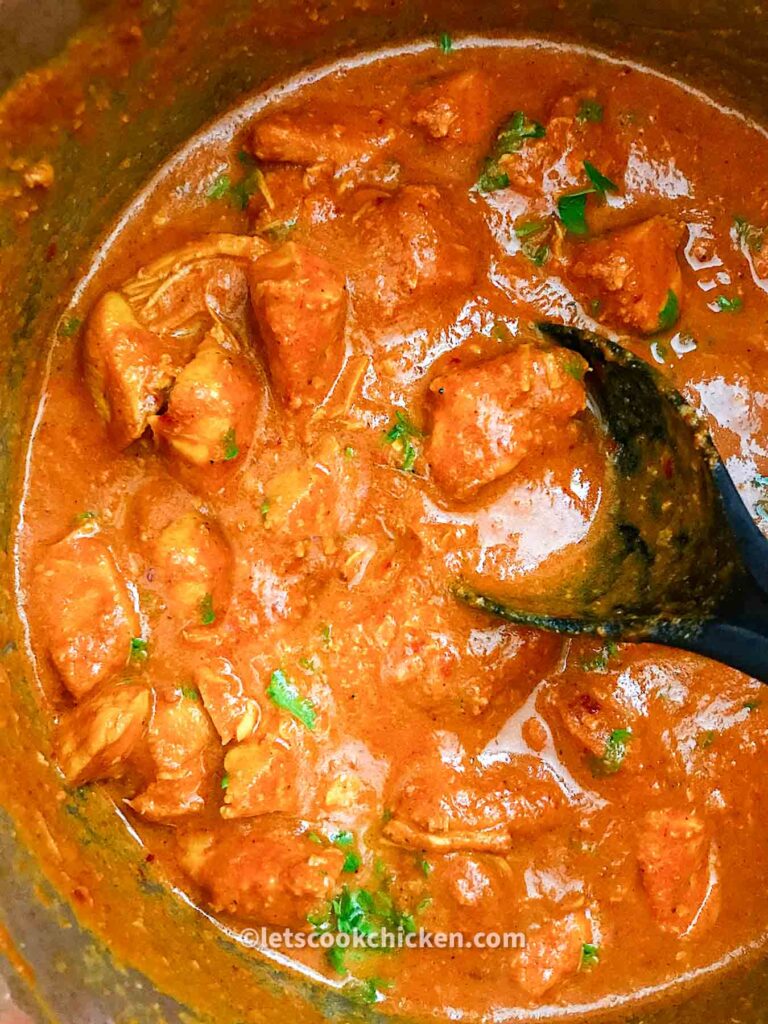 Did you find this helpful? Please leave a comment below and let us know. You can also use the share buttons to share with family and friends and in your favorite Facebook group.
Thank you for stopping by. Hope to see you again soon! If you'd love more chicken recipes, sign up for our free newsletter and come hang out with us Instagram, Facebook, Pinterest, Tiktok and YouTube for updates.
For now…. Let's cook chicken!
Love it? Pin it!