This is an easy Sloppy joe recipe (3 ingredients only). Sloppy joes are a classic American dish that are easy to make and enjoy. With just three simple ingredients, you can have a delicious chicken sloppy joe recipe ready in under 30 minutes.
The traditional recipe just got a lighter, healthier makeover with ground chicken and if you want more bells and whistles, you should try our old fashioned sloppy joes recipe next.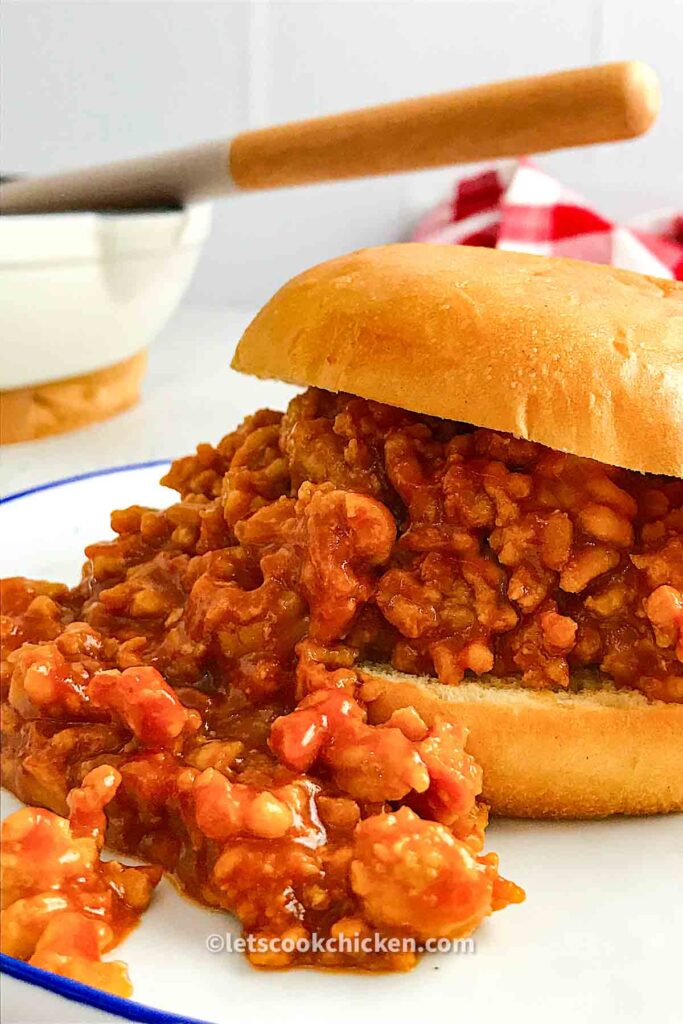 This recipe post contains helpful tips, tricks and answers to FAQs. Please read through to ensure you get the recipe right when you try it.
3 ingredient sloppy Joes with ground chicken
A sloppy joe is a sandwich consisting of ground beef and onions cooked in a tomato-based sauce, served on a hamburger bun. The dish likely originated from loose meat sandwiches which were popular in the Midwest in the 1920s. The earliest known references to "sloppy joe's" date back to the 1930s.
A basic sloppy joe is made with ground meat, usually beef, tomato sauce or ketchup, and onions. The sauce is seasoned with spices like garlic powder, Worcestershire sauce, brown sugar, and mustard. The meat and sauce mixture is served warm on hamburger buns.
Traditional sloppy joes contain ground beef, but using ground chicken breasts or thighs creates a less greasy, lighter version. The flavor is still savory and saucy, but without the guilt!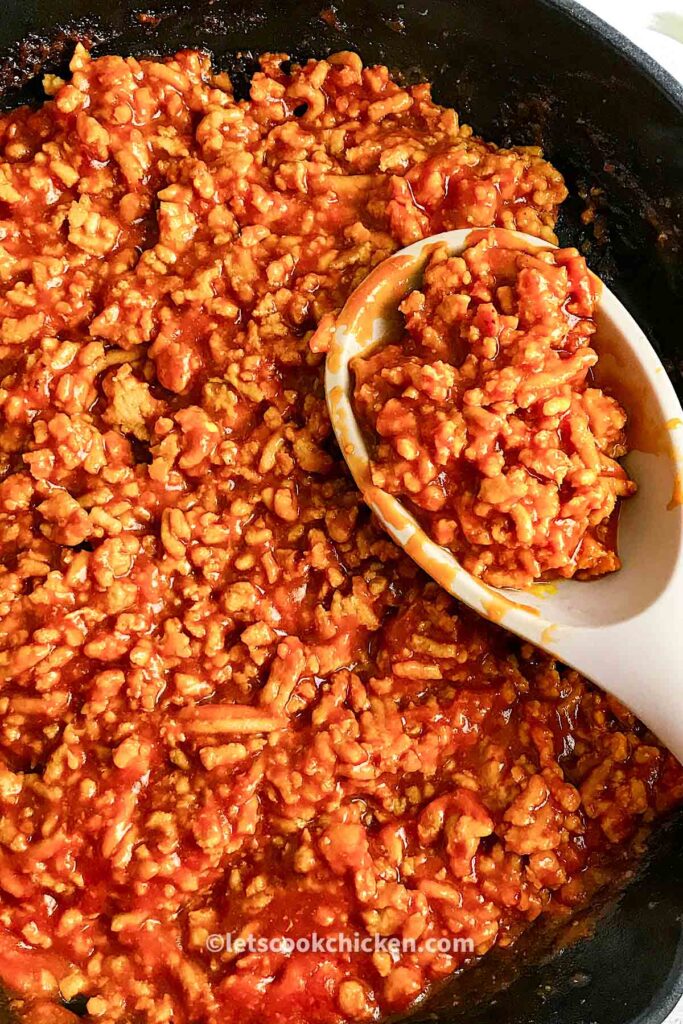 Why you'll love this recipe
Easy and quick to make: this is one of our favorite ways to cook ground chicken!
Kid-friendly: these loaded Sandwiches aren't just nostalgic, they are picky eater approved. Nothing as comforting as a saucy sloppy joes!
Healthier alternative to ground beef or pork for anyone looking to cut down on red meat. It's also a great option for people with alpha gal allergies.
Customizable with different add-ins
Perfect for busy weeknights or casual get-togethers.
Crowd pleasing: The sweet and tangy flavor profile appeals to people of all ages. The messy handheld style makes it fun for kids. Sloppy joes are definitely a crowd-pleasing meal!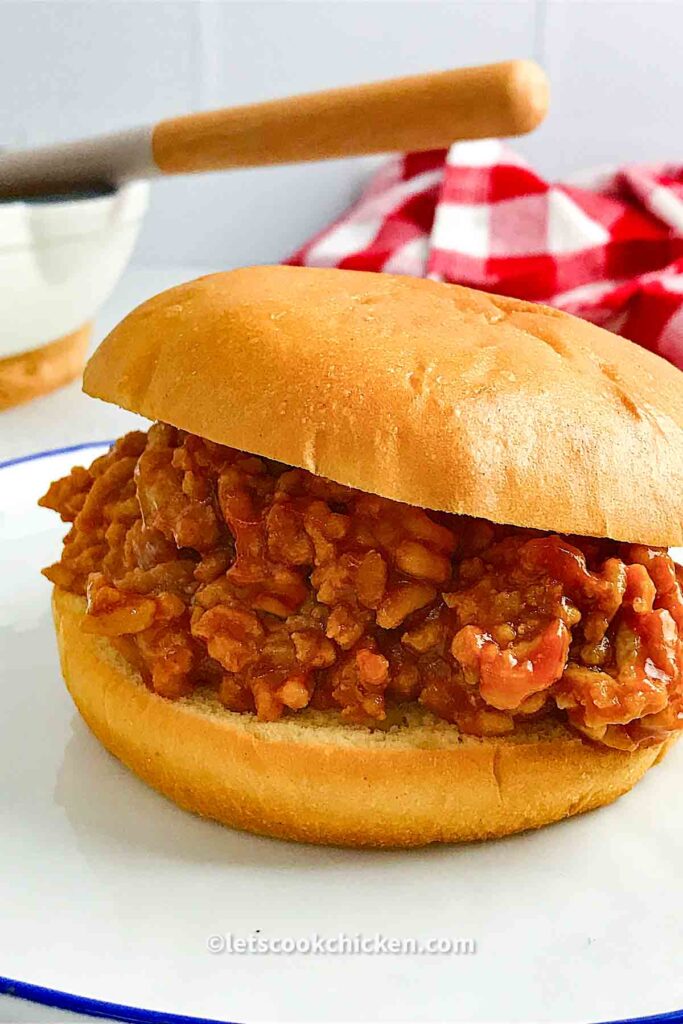 Ingredients
Ground chicken
Ketchup or bbq sauce
Yellow mustard
Tools used for this recipe
The list below may contain affiliate links. As an Amazon associate and affiliate to other merchants, this website may earn from qualifying purchases. Please read full disclosure here.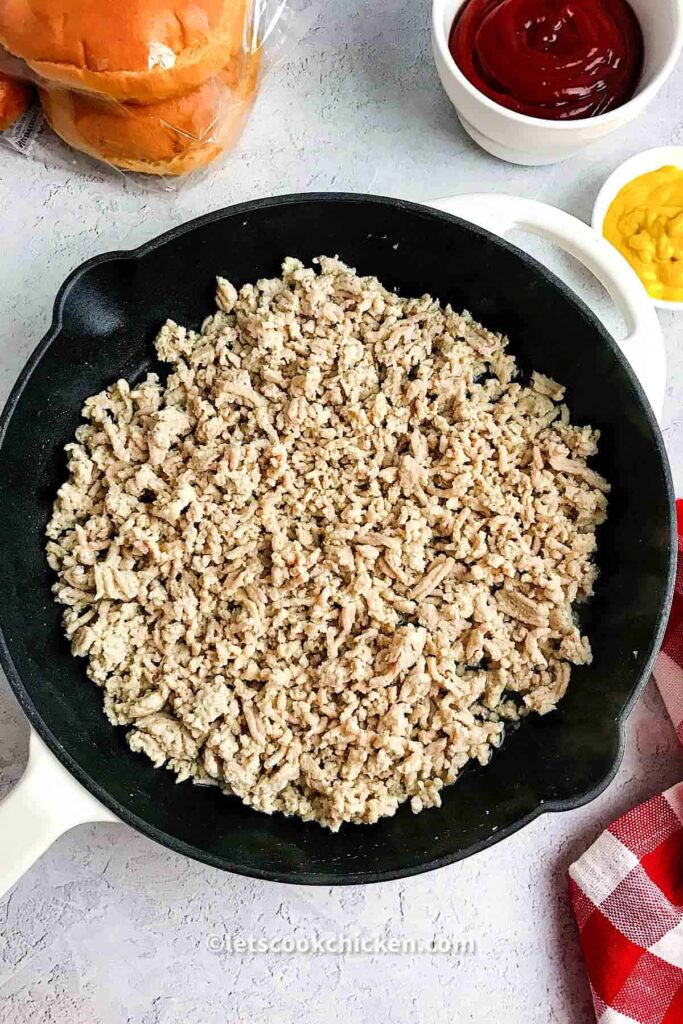 How to make this 3 ingredient sloppy Joe recipe
See printable recipe card at the end of this post for ingredient quantities and full instructions!
Cook the ground chicken till it it's no longer pink, then pour in the ketchup and mustard into the ground chicken.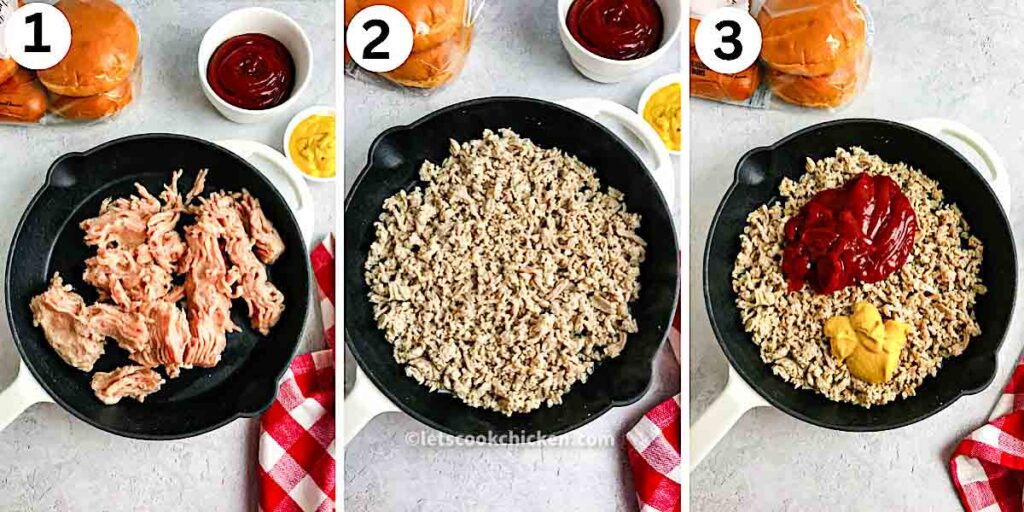 Stir till well combined, then cook for another 3 minutes. Serve with your favorite burger bun! I love to use briov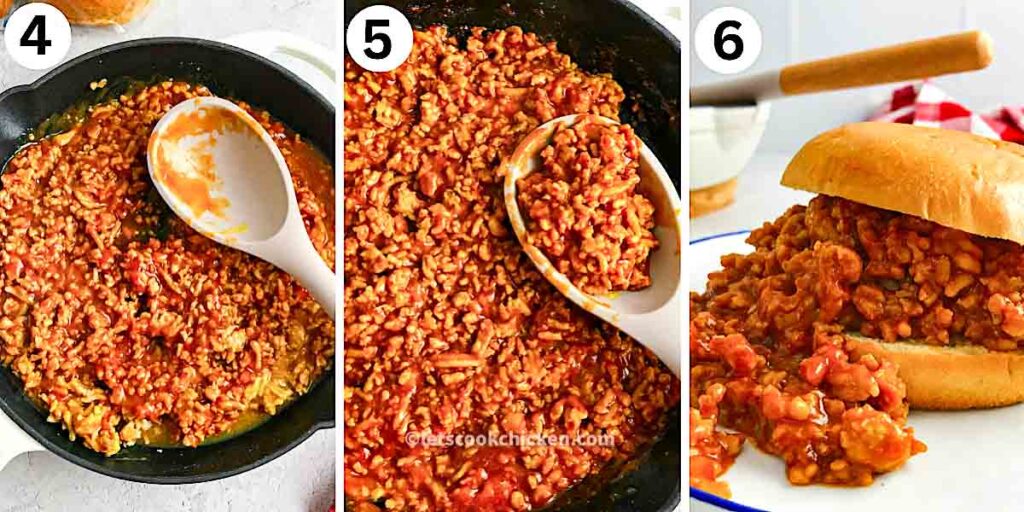 What to serve with sloppy joes
While sloppy joes are great on their own, they pair well with various sides:
French fries or tater tots
Corn on the cob
Coleslaw or potato salad
Baked beans
Chips and dip
Fresh fruit or veggies
Crunchy and creamy sides help balance out the saucy sloppy joe filling. Classic picnic options like potato salad and coleslaw just seem to go hand-in-hand with these sandwiches.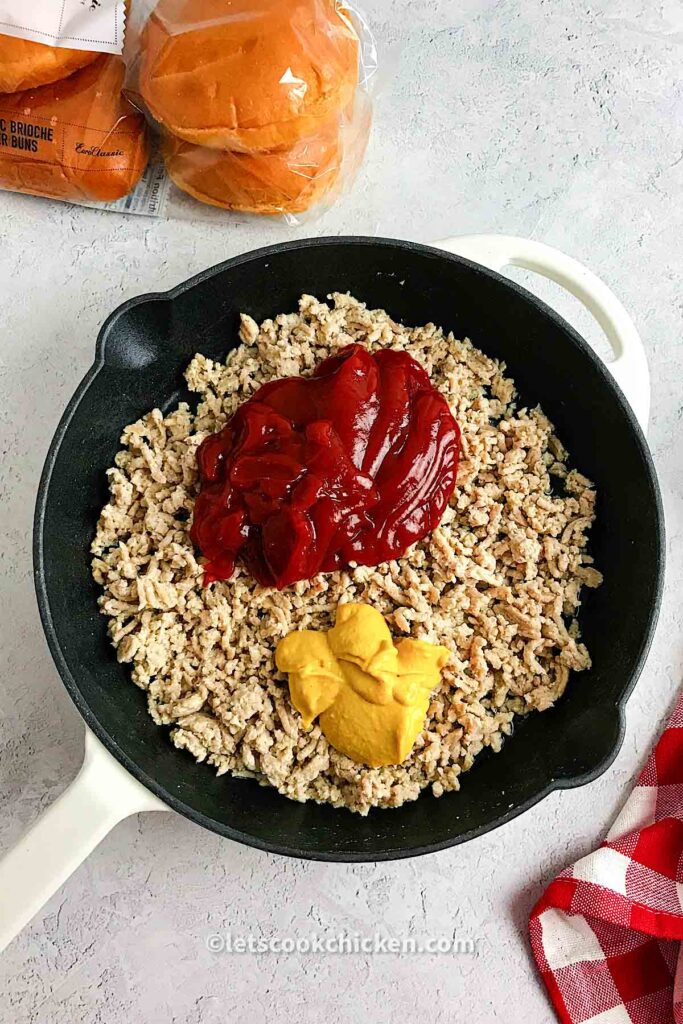 How to store and reheat
Leftover sloppy joe meat can be stored in an airtight container in the fridge for 3-4 days. The sauce tends to thicken up when chilled.
To reheat, place the sloppy joe meat in a saucepan over medium low heat. Stir in a few tablespoons of water to loosen up the sauce again. Heat through until warmed throughout.
Sloppy joes also reheat well in the microwave. Just zap a portion for 30 seconds at a time, stirring between intervals, until hot.
Serve leftovers on fresh buns or over rice, pasta, or baked potatoes for an easy second meal.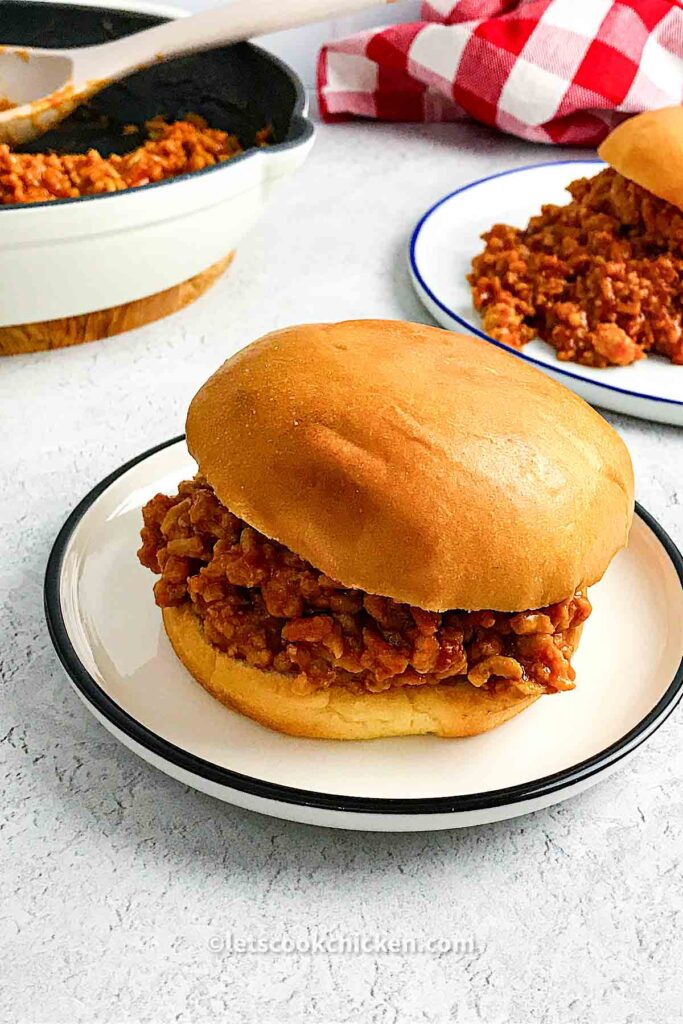 Pro Tips
Use lean ground chicken a less fatty option. If you are making your own chicken mince at home, consider using boneless skinless chicken thighs or a mix or chicken thighs and chicken breasts for best flavor.
Cook chicken over medium-high heat until browned and crumbled.
I used ¾ cup of ketchup you can use up to 1 cup if you like want a lot of ketchup.
I don't recommend adding sugar until you've tried this recipe. I think the sweetness was perfect for me.
Toast the buns for crunch.
Top with lettuce and sliced tomato for a pop of freshness
FAQs
What type of bun works best?
Brioche or whole wheat buns holds up well. Potato rolls also work nicely.
Can I use ground turkey?
Yes, just be sure to drain any excess grease after cooking.
Should I drain the fat?
Draining most of the grease after browning is recommended for most sloppy joe recipes using ground beef.

However I found that since ground chicken is mostly lean, I rarely need to drain.
Can I freeze the leftovers?
Yes, freeze cooled chicken mixture for up to 2 months. Thaw overnight in fridge before reheating.
More ground chicken recipes
Chicken sloppy joes are a healthier, lighter take on a classic sandwich. Made with just 3 ingredients in under 30 minutes, they are so quick and easy to make any night of the week. The flavors are family-friendly while still being lower in fat and calories. Hope you try this saucy chicken version for a satisfying sandwich soon!
Did you find this post helpful? Please leave a comment below and use the star rating to let us know how much you enjoyed it.
Have you shared this recipe yet? This is the time to use the share buttons and share this chicken recipe with your family and friends.
Thank you for stopping by. Hope to see you again soon! If you'd love more chicken recipes, sign up for our free newsletter and come hang out with us on Instagram, Facebook, Pinterest, Tiktok and YouTube for updates.
For now…. Let's cook chicken!
Love it? Pin it!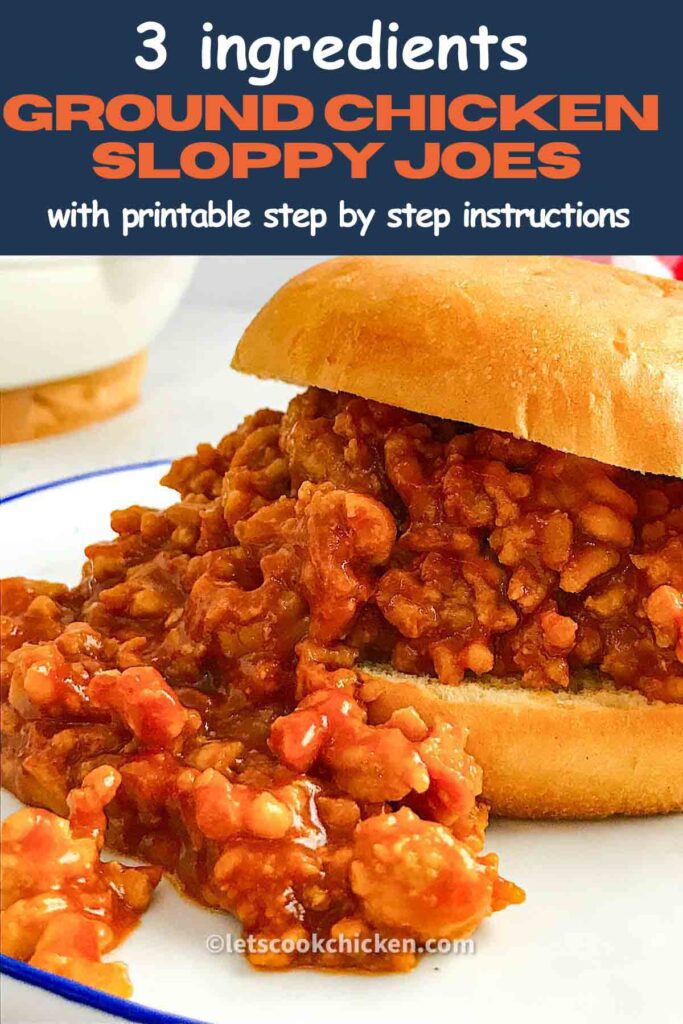 3 ingredient sloppy Joes
This is an easy Sloppy joe recipe (3 ingredients only). Sloppy joes are a classic American dish that are easy to make and enjoy. With just three simple ingredients, you can have a delicious chicken sloppy joe recipe ready in under 30 minutes.
Ingredients
1

lb

Ground chicken

¾

cup

Ketchup

1 ½ to 2

Tablespoons

Yellow mustard
Instructions
Cook and the ground chicken for about 8 to 10 mins or until it's no longer pink.

Add the Ketchup and Yellow mustard to the cooked ground chicken. Mix till well combined.

Simmer on medium heat for 5 to 7 more minutes before turning off the heat.

Let it rest for a minute before serving.
Nutrition
Calories:
141
kcal
Carbohydrates:
8
g
Protein:
14
g
Fat:
6
g
Saturated Fat:
2
g
Polyunsaturated Fat:
1
g
Monounsaturated Fat:
3
g
Trans Fat:
0.05
g
Cholesterol:
65
mg
Sodium:
359
mg
Potassium:
485
mg
Fiber:
0.3
g
Sugar:
6
g
Vitamin A:
157
IU
Vitamin C:
1
mg
Calcium:
11
mg
Iron:
1
mg