Making your own chicken wings seasoning is super easy. This recipe can be used as a dry rub when cooking wings in the deep fryer, air fryer, oven or grill. It can also serve as the base for a chicken wings marinade.
That's why I love homemade seasoning mixes, they are not only versatile, the recipe comes together pretty quickly and requires ingredients you most likely already have in your pantry.
This recipe post contains helpful tips, tricks and answers to FAQs. Please read through to ensure you get the recipe right when you try it.
Homemade chicken wings seasoning
Chicken wings are a classic appetizer and game day snack. While you can buy pre-made wing sauces and seasoning blends, making your own allows you to customize the flavor profile exactly how you like it.
Having a go-to homemade blend on hand makes whipping up baked or fried wings a breeze. Read on to learn how to make a versatile chicken wing seasoning that's sure to become a staple in your kitchen.
Looking for more seasoning blends? You love how easy it is to whip up this Garam masala seasoning. Give it a try and your curry dishes will thank you!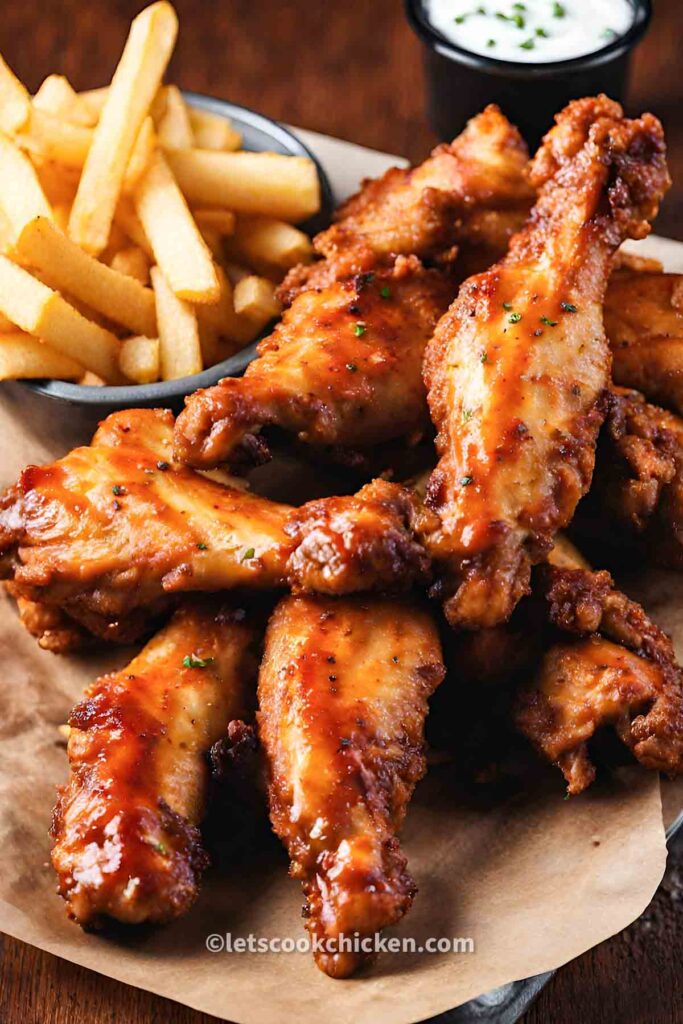 Why make your own blend?
Store-bought wing seasonings are certainly convenient, but making your own has some key advantages. You can tweak the ingredients to suit your tastes like add more heat, amp up certain flavors, or tone it down for kids.
Homemade also tends to be cheaper in the long run compared to packaged blends. Finally, you can control the quality of ingredients. Store-bought mixes often contain lots of salt, preservatives, anti-caking agents, and other additives you may want to avoid.
Ingredients
Paprika
Garlic powder
Onion powder
Black pepper
Italian seasoning
Cayenne pepper
Salt (optional)
Tools used for this recipe
The list below may contain affiliate links. As an Amazon associate and affiliate to other merchants, this website may earn from qualifying purchases. Please read full disclosure here.
Small bowl
Mini whisk
Spice
How to make
See printable recipe card at the end of this post for ingredient quantities and full instructions!
Measure out the ingredients. Mix to combine then transfer to an air tight spice jar.
If you want a smooth spice blend, run it thrift a spice grinder or coffee grinder. After blending, transfer to a flat plate and let it sit for about 2 minute to cool before transferring to an air tight container.
How to use
This wings seasoning can be used for any other cut of chicken like drumsticks, thighs, chicken breasts or whole chicken. It can also be used in beef, fish and pork.
I recommend using 1 tablespoon per pound of chicken wings.
This dry rub can be used in chicken marinades. Simply add oil and lemon juice. Marinate the chicken in it for 30 mins up to 24 hrs for maximum flavor.
How to store
Stored properly, homemade wing seasoning will stay fresh for 2-3 months. Keep it in an airtight container in a cool, dry place away from extended heat or sunlight, which can cause spices to lose their potency faster.
Tips
Spices may lose potency over time. Ensure to use fresh, high-quality spices for the best flavor.
Start with less cayenne or other heat elements until you know your preference. You can always add more next time or after your first use.
Experiment with the proportions to customize the blend to your tastes.
Rub the seasoning evenly over raw wings so flavor permeates the skin.
You can leave out the salt and add it to taste when you are ready to cook your wings.
FAQs
How to season wings before sauce?
Pat the raw chicken wings dry and coat evenly with a dry seasoning rub. Let the seasoned wings sit for at least 30 minutes before cooking to allow the spices to penetrate. Cook the seasoned wings until crispy and cooked through.

Once cooked, toss the wings in your desired sauce. Seasoning the raw wings first builds flavor that shines through the sauce.
Is it better to marinate or dry rub chicken wings?
Both are great ways to season chicken wings A dry rub will adhere to the skin better and not wash off as easily as a wet marinade when cooking this is best when you like crusty skin on chicken.While marinades help tenderize the meat and adds more flavor, marinades tend to work best for larger cuts of meat. They do work well for wings even though they se not considered large cuts of meat but may not really be necessary.
Should I season wings before saucing?
For best flavor season the raw wings even if it's with just salt and pepper before saucing.Let it sit for at least 30 minutes before cooking. This allows the seasonings to penetrate into the meat.Cook the seasoned wings first, then toss them in sauce afterward. This builds layers of flavor - the rub provides a base, and the sauce coats afterward.
Do you put seasoning on wings before or after cooking?
Seasoning wings before cooking. You can add more seasoning if you like after it's cooked. Never reuse seasoning that has come in contact with raw chicken. If you must sprinkle some seasoning after cooking the wings, use fresh seasoning straight from the slice jar.
More homemade chicken seasoning mixes
Taco chicken seasoning
All purpose seasoning
Peri peri chicken seasoning
Check out all our chicken recipes.
Making your own versatile chicken wing seasoning allows you to customize the flavors to your exact preference for game days, parties, or anytime.
This blend keeps for months and allows you to control ingredients. Now that you know how easy it is to mix up a batch, you may never buy premade wing seasoning again!
Did you find this post helpful? Please leave a comment below and use the star rating to let us know how much you enjoyed it.
Have you shared this recipe yet? This is the time to use the share buttons and share this chicken recipe with your family and friends.
Thank you for stopping by. Hope to see you again soon! If you'd love more chicken recipes, sign up for our free newsletter and come hang out with us on Instagram, Facebook, Pinterest, Tiktok and YouTube for updates.
For now…. Let's cook chicken!
Love it? Pin it!
Chicken wing seasoning
Making your own chicken wings seasoning is super easy. This recipe can be used as a dry rub when cooking wings in the deep fryer, air fryer, oven or grill. It can also serve as the base for a chicken wings marinade. 
Ingredients
2

tablespoon

Paprika

2

tablespoon

Garlic Powder

2

tablespoon

Onion powder

1

teaspoon

ground black pepper

2

tablespoons

Italian seasoning

1

teaspoon

Cayenne pepper

2

teaspoons

salt

(optional)
Instructions
Measure out spices into a bowl.

Whisk till well combined. Use quantity you need and store the rest in an air tight container for later.
To use
Use 1 tablespoon per pound of chicken wings.
Notes
It's generally best to make spice blends in small quantities, especially if you don't use them frequently. This ensures that the blend stays fresh and flavorful. You can always make more as needed.
Nutrition
Calories:
11
kcal
Carbohydrates:
2
g
Protein:
0.4
g
Fat:
1
g
Saturated Fat:
0.1
g
Polyunsaturated Fat:
0.1
g
Monounsaturated Fat:
0.2
g
Trans Fat:
0.001
g
Sodium:
3
mg
Potassium:
48
mg
Fiber:
1
g
Sugar:
0.1
g
Vitamin A:
190
IU
Vitamin C:
1
mg
Calcium:
22
mg
Iron:
1
mg